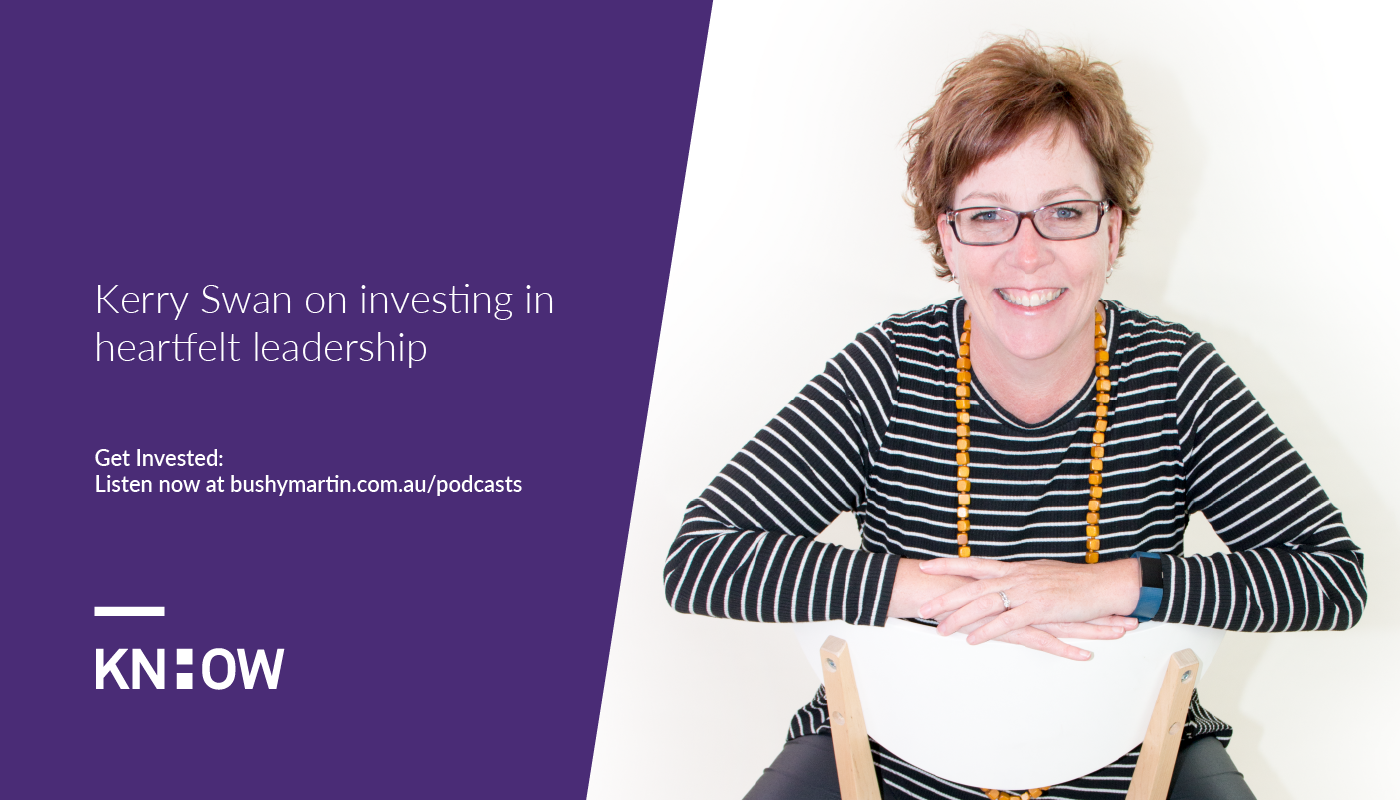 Business leader Kerry Swan joins the podcast to talk about why leading from the heart helps you lead yourself, and others.
Listen to this episode now and subscribe via Apple Podcasts, Spotify, Google Podcasts or PlayerFM . 
Are you a leader? If you said no, then I'm going to challenge you because we are all leaders, whether we recognise it or not.
Our entire lives are about personal leadership, whether we're leading others or ourselves. In any and all of these situations you need to invest in your head and your heart, to make the big decisions, to make the right decisions and then invest in action.
But many traditional top down command and control approaches to leadership fall short – and this is where Kerry Swan and her unique approach to investing in heartfelt leadership comes to your rescue.
Kerry is built for business and leadership. Having survived two business start-ups and the volatility of business in the wake of the COVID-19 pandemic, she understands, personally, the realities and frustrations of business and leading a team through change.
Kerry's a born and bred project manager from the bush, whose entrepreneurial spirit, coaching skills and love of property now sees her leading four diverse family businesses across real estate, earthmoving and agribusiness with a team of more than thirty five people.
And among all of this, Kerry's managed to write and publish her new book on investing in heartfelt leadership, which teaches you how to lead yourself by getting clear about what you want in your life, as well as leading others in the way they want to be led.
Enjoy the discussion!
Get Heartfelt Leadership:
Visit www.kerryswan.com to order Kerry's book.
Join the Get Invested community:
And if you want to continue investing in your knowledge, join me and many other like minded investors in our Get Invested community right now.
I send a free and exclusive monthly email full of practical 'Self, Health and Wealth' wisdom that our current Freedom Fighter subscribers can't wait to get each month.
It's full of investment and lifestyle tips, my personal book recommendations, apps I use to enhance life and so much more. Just visit bushymartin.com.au and sign up at the bottom of the page … because this is just the beginning!
Listen to this episode now and subscribe via Apple Podcasts, Spotify, PlayerFM, search Google Podcasts or the player below. 
Get Invested is the leading weekly podcast for Australians who want to learn how to unlock their full 'self, health and wealth' potential.
Hosted by Bushy Martin, an award winning property investor, founder, author and media commentator who is recognised as one of Australia's most trusted experts in property, investment and lifestyle, Get Invested reveals the secrets of the high performers who invest for success in every aspect of their lives and the world around them.
Remember to subscribe on your favourite podcast player, and if you're enjoying the show please leave us a review.
Find out more about Get Invested here 
Want to connect with Bushy? Get in touch here

Podcast produced by Apiro