Books written by
Bushy Martin
Books written by Bushy Martin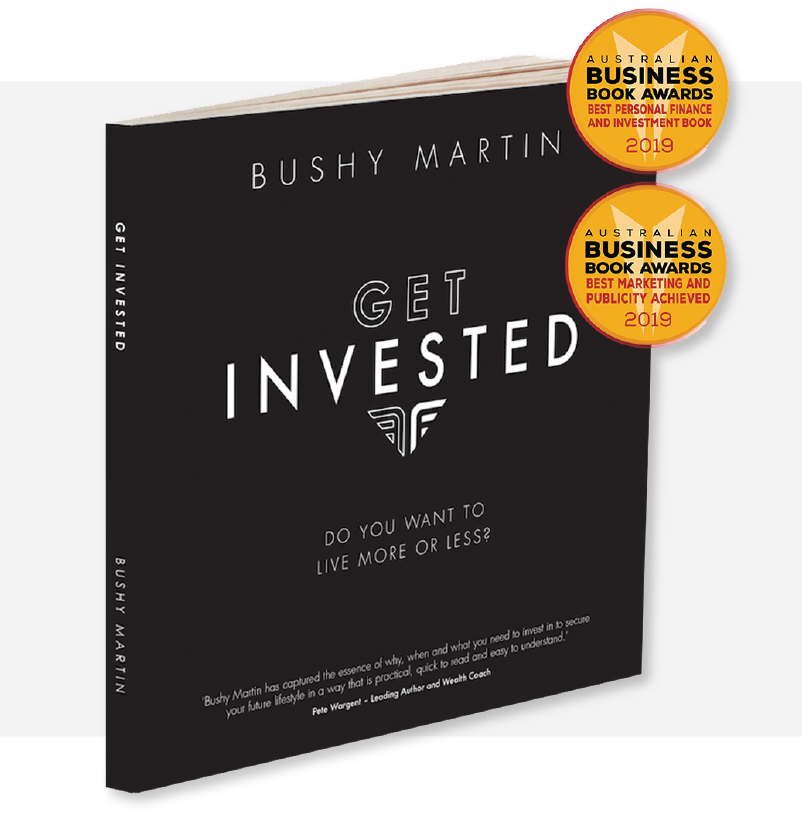 GET INVESTED will inspire you to invest, live more and work less, and leave the endless trap of work and debt. 
Award-winning property investment specialist and podcast host, Bushy Martin, draws on the experiences of thousands of others who have learned to replace their income through safe and affordable investment. The insights and stories will not only motivate you but also help you understand your 'why,' 'when,' and 'what' when it comes to investing safely, affordably, and easily for long-term financial security.
After reading Get Invested, you will:
realise that relying on superannuation and just paying off your home loan will keep you poor
understand the need to invest in a way that won't limit your lifestyle
know why, when and what to invest in to achieve your goals
be ready to start your investment journey
WINNER OF AUSTRALIAN BUSINESS BOOK AWARDS: 'BEST PERSONAL FINANCE AND INVESTMENT BOOK' AND 'BEST MARKETING AND PUBLICITY ACHIEVED AWARDS' IN 2019.
PURCHASE YOUR COPY AT ANY OF
THESE LEADING RETAILERS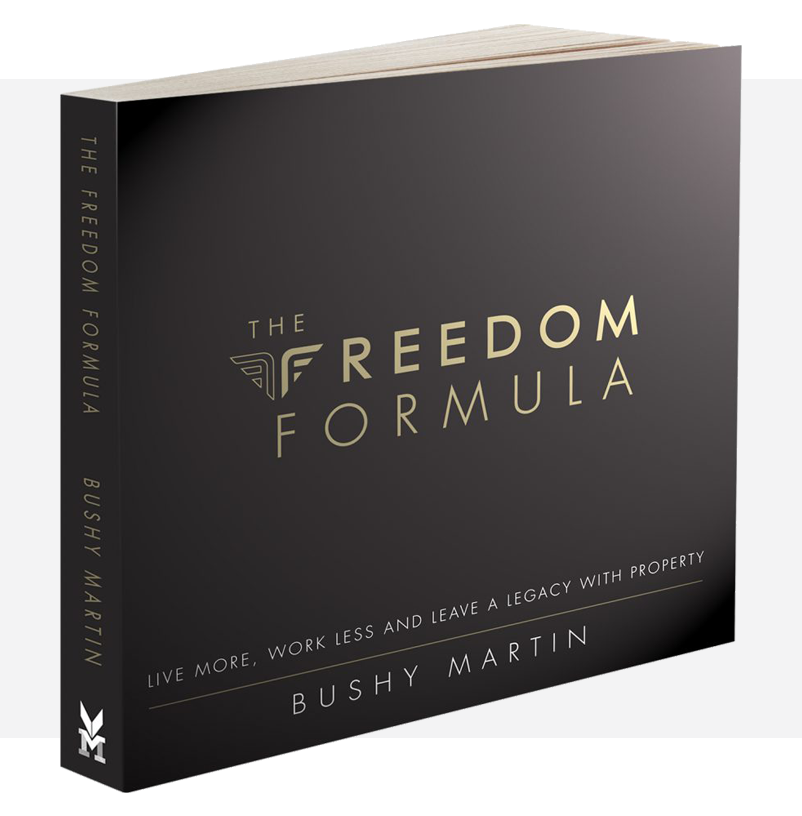 DO YOU FEEL TRAPPED WITH NO WAY OUT AND HAVE NO TIME AND NO LIFE OUTSIDE WORK?

ARE YOU CONCERNED YOU WILL HAVE TO KEEP ON WORKING HARD FOREVER?

DO YOU FEEL PROPERTY INVESTMENT IS THE ANSWER BUT YOU DON'T KNOW WHO TO TRUST, WHERE TO START, AND YOU DON'T HAVE THE TIME OR EXPERTISE TO DO IT PROPERLY?
As a time-poor professional, you are not alone. These days many people feel trapped and they can't see a way out, but this book will help you eliminate your fears and achieve your lifestyle goals. Bushy Martin reveals the Freedom Formula, which will help you calculate how much wealth you require to replace your income.
He also provides a step-by-step process that has helped thousands of others to focus on their careers while their income is replaced through safe, affordable, manageable property investment. In this book you will learn how to:
assess your current and future financial situation
calculate the net wealth required to supplement or fully replace your current income
set ambitious but achievable goals
find the right types of investments for your circumstances
understand the cycles of the property market and use them to your advantage
build a highly-skilled investment team to maximise your investment potential
take advantage of the power of compounding and leveraging.
By following this unique approach, you too can get your time back to live more, work less and retire early. Imagine the peace of mind and sense of freedom you are going to enjoy in knowing your future is finally secure so that you can live life on your terms.
HERE'S YOUR OPPORTUNITY TO LEARN HOW TO REGAIN YOUR TIME, YOUR LIFE AND SECURE YOUR FUTURE.
PURCHASE YOUR COPY AT ANY OF
THESE LEADING RETAILERS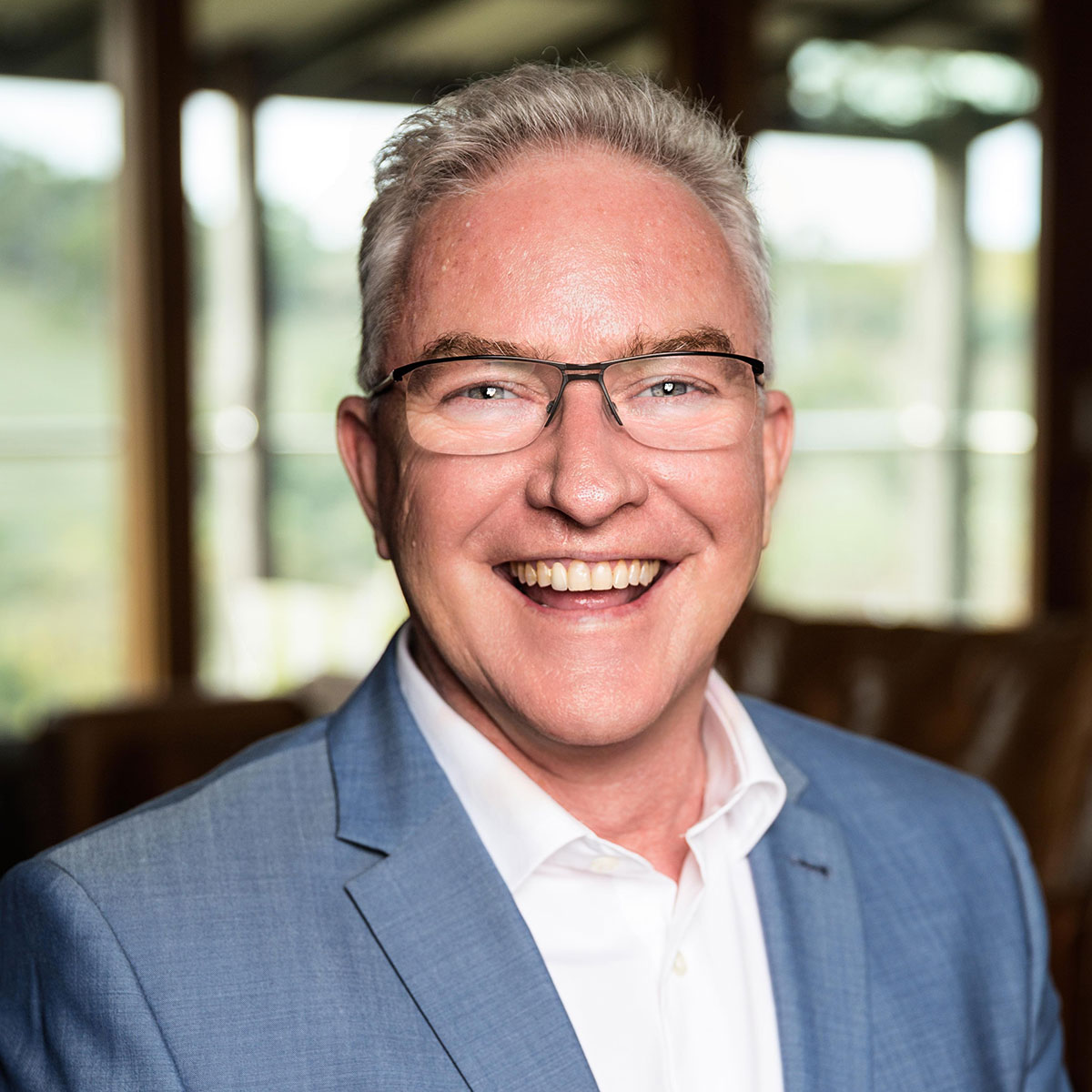 As an active property investor with an international portfolio of 12 properties, Bushy has combined his unique combination of skills as an architect, project manager, finance broker, land agent and property manager over the last 35 years to become a leading property investment advisor.

His Know How team have helped over 1700 other investors to secure in excess of $600M in property, resulting in his recognition as one of Australia's Top 10 Property Specialists by The Property Investor Magazine.