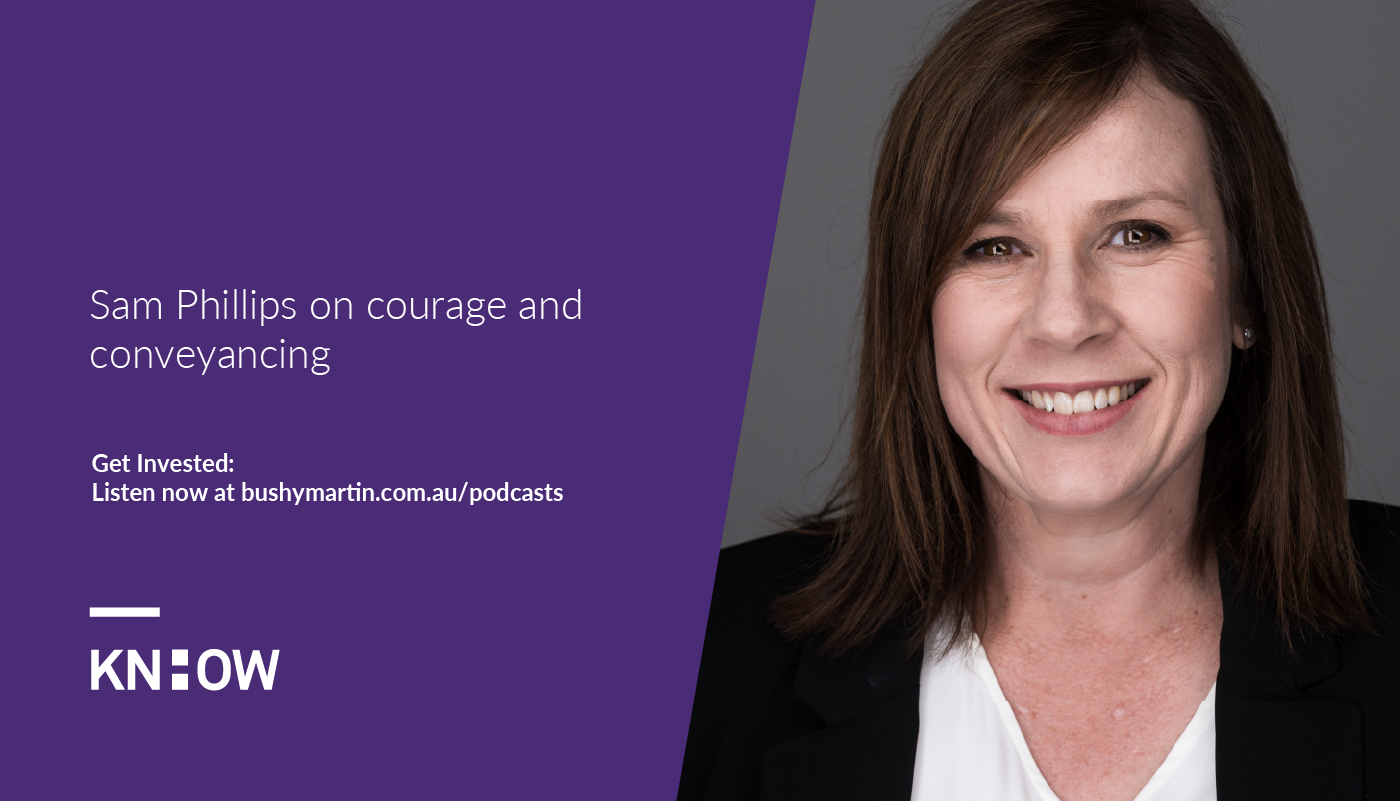 It's a time to embrace your discomfort, feel the fear and do it anyway – this is the gateway to change, learning and growth. Our guest Samantha Phillips is a great example of this.
Listen to this episode now and subscribe via Apple Podcasts, Spotify, PlayerFM, search Google Podcasts.
Sam is one of the best conveyancers I know. Her knowledge, commitment, responsiveness, attention to detail and ability to come up with approaches and solutions that have both protected and saved our clients tens of thousands of dollars over the years is second to none. And you'll hear some of her brilliant secrets and tips in our conversation today.
Sam is warm and friendly and one of the most understated and humble professionals around. Sam lets the exceptional quality of her work and her actions do the talking.
Starting her conveyancing business as a single Mum in the front of her home over 16 years ago, her tenacity, grit and resilience has led to the growth of her current conveyancing business Tuckfields where she is CEO of one of South Australia's largest and most progressive conveyancing firms, leading a team of 16 professionals across three locations, servicing hundreds of clients and processing over 2,000 property settlements a year.
Tuckfields' core business of residential and commercial conveyancing and eConveyancing is supplemented with land divisions, matrimonial transfers, deceased estate transfers and title name changes, in addition to offering Form 1 services to Real Estate Agents.
So despite Sam's somewhat shy yet always warm and welcoming approach, she continually and repeatedly embraces her discomfort and keeps stepping into new and challenging situations.
And today's podcast appearance is a great case in point for Sam. As you know, public speaking is one of the most confronting and stressful things that most people face – it's right up there with death and divorce – and talking to an unknown audience of thousands on a podcast is no different. Yet despite her fear and trepidation of being in the limelight and not liking to talk about herself, Sam has embraced her discomfort and agreed to join me today so I'm very privileged that she's agreed to be part of this.
So as you're listening to her share words of wisdom today, put yourself in her shoes and see how comfortable you would be talking about your private life and inner feelings with an audience of strangers. Please join me in applauding Sam on having the courage to do this and send her thoughts of encouragement as she continues to move along the road less travelled.
Because Sam has a wealth of wisdom to share with us in the other area of property that never gets the attention or recognition that it deserves – I'm talking about the importance of the conveyancer.
In our engaging deep dive discussion today, Sam answers all of your questions including:
What are the keys to successful conveyancing?

What are the biggest mistakes that people make around conveyancing?

What are the biggest risks that need to be considered in relation to property settlement?

What separates a good conveyancer from an average one?

How can you eliminate stress around property settlement and conveyancing matters?

And Sam shares a raft of great Conveyancing tips and tricks on ownership structures, land division cost savings and contract review learnings among many others.
So to learn the ins and outs on the area of conveyancing that is the unsung hero of property success, please enjoy this great conversation with Sam Phillips.
Listen to this episode now and subscribe via Apple Podcasts, Spotify, PlayerFM, search Google Podcasts or the player below.
Get Invested is the podcast dedicated to time poor professionals who want to work less and live more. Join Bushy Martin, one of Australia's top 10 property specialists, as he and his influential guests share know-how on the ways investing in property can unlock the life you always dreamed about and secure your financial future.
Remember to subscribe on your favourite podcast player, and if you're enjoying the show please leave us a review.
Find out more about Get Invested here
Want to connect with Bushy? Get in touch here

Podcast produced by Apiro