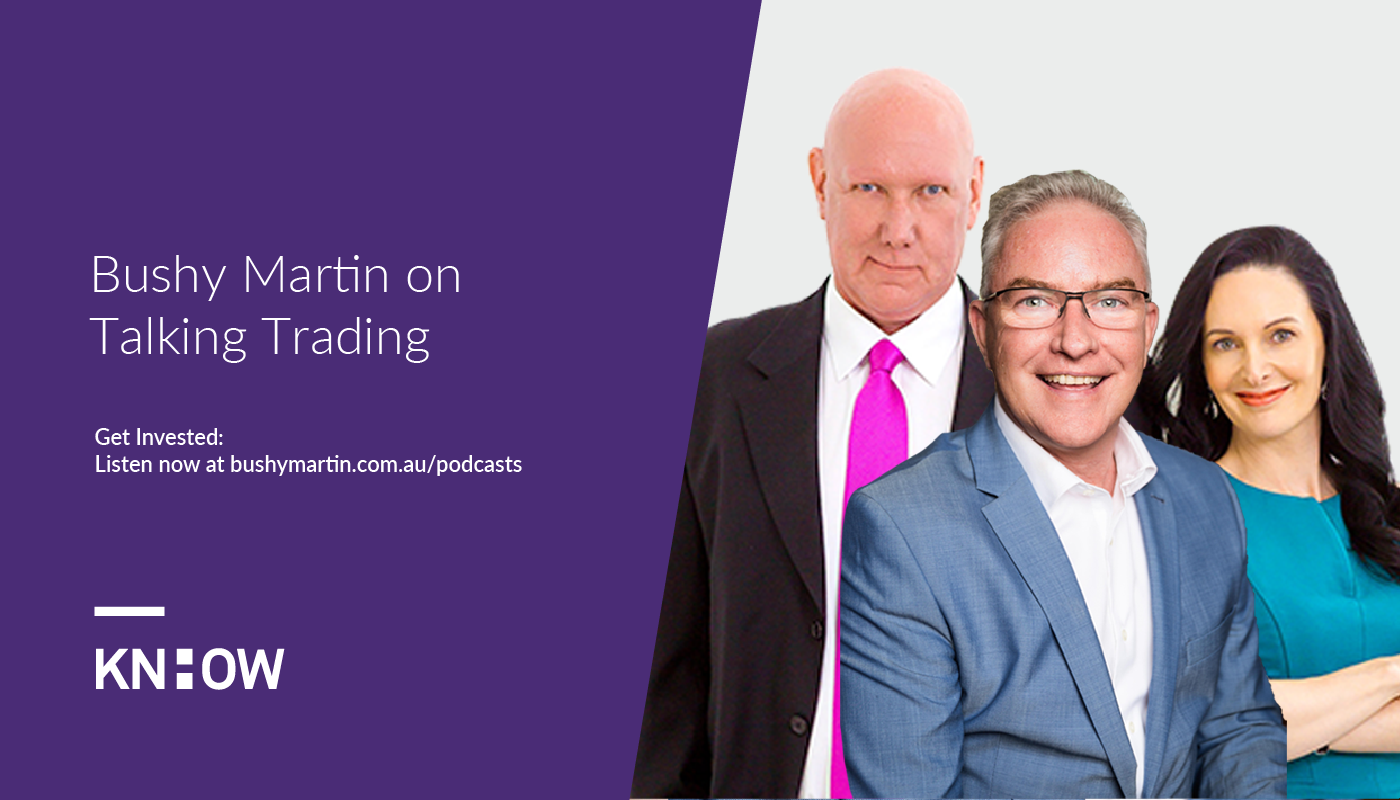 In this conversation, Bushy Martin joined the Talking Trading team to share his story and insights on all aspects of investing for living by design.
Listen to this episode now and subscribe via Apple Podcasts, Spotify, PlayerFM, search Google Podcasts. 
To re-motivate you to stay true to your long term lifestyle and investment goals, I thought I'd share the awesome conversation I enjoyed on the Talking Trading podcast, Australia's longest running and very popular investment and trading podcast.
It is hosted by professional financial journalist, Caroline Stephen, and supported by best-selling authors Louise Bedford and Chris Tate – who is Get Invested's resident financial markets commentator.
The Talking Trading podcast is your free weekly trading podcast, showcasing the world's best equities traders with great trading tips, strategies and more.
Talking Trading consistently shares insightful content and Caroline has a brilliant interviewing style that gets the best out of her leading professional investor guests.
To get you in the mood to start living by design and not by default, Caroline got me to open up on a broad range of subjects including:
My family background and some interesting personal history 

A discussion on my highs and lows

The importance of what I call 'mirror time'

A summary of what life fulfilment is really about

The importance of the 3 reinforcing forms of TLC

A summary of the essence of

The Freedom Formula

I Spell out the 8 critical preventative wealth vitamins with a discussion around the importance of developing happy habits and daily disciplines

I outline what I consider to be the keys to sustainable success

We talk through how to go about changing your personal reality

The need to become passive aggressive

The importance of your freedom numbers

The impact of the capital growth to cash flow curve

How to use negative gearing to create positive cash flow properties 

And we delve into the need for a changing portfolio transition strategy that involves investing in both equities and property at the right time for the right purpose
So if you really want to learn how to invest and trade properly to take advantage of the upcoming financial market opportunities, then start by joining Caroline Stephen, Louise Bedford and Chris Tate
on their Talking Trading podcast – you can find it at https://talkingtrading.com.au/ or on Apple Podcasts, Spotify or wherever you listen to good podcasts.
And if you move quickly, you can still get in on their next upcoming six month, repeat-for-free forever Trading Game Mentor Program where you'll learn how to trade every instrument, over every time frame based on a trading plan that suits you. It's the LONGEST RUNNING REPEAT-FOR-FREE TRADING MENTOR PROGRAM IN THE WORLD so just jump on https://www.tradinggame.com.au/about-the-trading-mentor-program/ to secure your spot. 
And make sure you let them know that Bushy suggested you reach out so you enjoy the advantage of some exclusive bonuses. 
And just to reiterate, there are no brown paper bags stashed with money exchanging hands or any form of personal reward for mentioning it – I refer to them purely because I know they are good at what they do based on the very positive feedback I've received from other equities investors I know who have joined them.
Listen to this episode now and subscribe via Apple Podcasts, Spotify, PlayerFM, search Google Podcasts or the player below. 
Get Invested is the podcast dedicated to time poor professionals who want to work less and live more. Join Bushy Martin, one of Australia's top 10 property specialists, as he and his influential guests share know-how on the ways investing in property can unlock the life you always dreamed about and secure your financial future.
Remember to subscribe on your favourite podcast player, and if you're enjoying the show please leave us a review.
Find out more about Get Invested here 
Want to connect with Bushy? Get in touch here

Podcast produced by Apiro