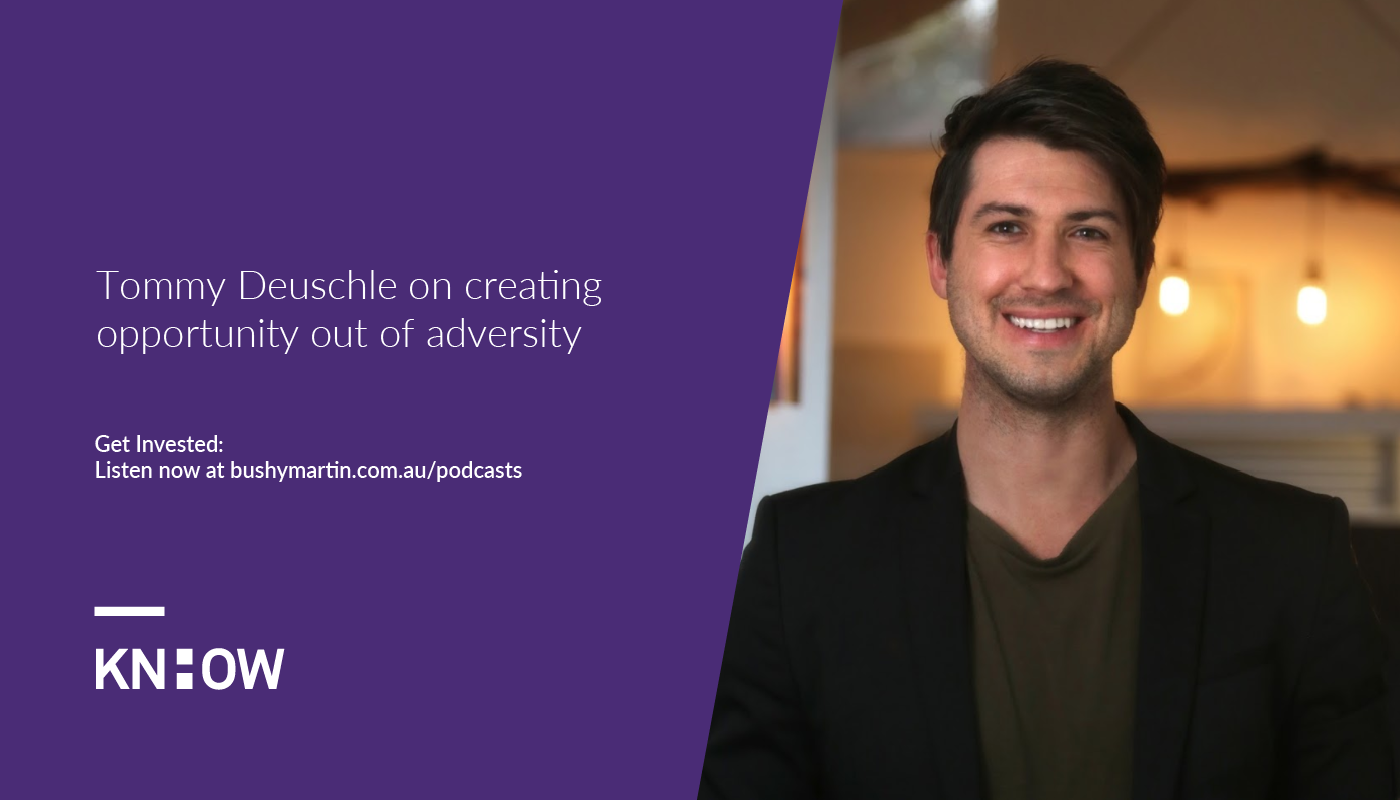 The power of story and creation of unified vision is the driving passion and life story of our special guest on Get Invested, Tommy Deuschle.
Listen to this episode now and subscribe via Apple Podcasts, Spotify, Google Podcasts or PlayerFM . 
He's a refreshing antidote for a world in desperate need of visionary, collaborative, creative and unifying leadership at all levels, based on the power of crafting and embracing new and better visionary stories.
In this interview, Tommy arms us with the tools that we need to better navigate a world in continuous turmoil, having spent his life creating opportunity out of adversity, and learning how to survive and thrive in the troubled and torn country of Zimbabwe.
For over 15 years, Tommy has been architecting and orchestrating movements that catalyze innovation, social change and tell stories of hope and transformation. 
Tommy is widely sought after for his creative leadership and a rare ability to inspire vision, clarity and courage among leaders and organisations.  
He is highly regarded as a transformational impact influencer, and he's worked with leaders across Africa, Europe and the United States on igniting the power of story through film and music, startups, businesses, churches and movements, in cities and across nations. 
He's produced multiple TV shows and media projects in Africa that have accumulated audiences of millions, and he's the current executive producer of a Hollywood-based feature film.
And the fuel for Tommy's fire, emanates from his strong unwavering faith. Tommy's a pastor at Celebration, Zimbabwe's largest multi-racial church with over 10,000 people gathering weekly in more than 130 locations.
He also founded Stadium Worship, a movement that has united churches in Zimbabwe with a media audience of more than four million and events attended by 15,000 people.
In today's refreshing discussion, Tommy answers all of your questions on how to learn and overcome adversity, and use the power creating new stories and inspiring visions in your life, including:
What are the key lessons from living with adversity?

How can the power of story transform our lives?

How important is hope in difficult times? How do we restore hope and belief in a world consumed with fear and hopelessness?

How important is creativity to our future? And How are you able to be creative in stressful situations?

How do we lift our sights from immediate reactive, short term self interest to long term generational infinite approaches?

How do we individually and collectively restore trust in ourselves and others as a basis for unity and harmony?

What part does a common unified vision and values play in our future? And How do we achieve it?

We touch on how important humility is to our collective future and how can we instil it?

He gives his thoughts on the most powerful enduring legacy that you can create

And Tommy downloads some immediately usable innovations with the use of imagine statements, creative trust rooms, the transformational power of music, and the need to plan adventures.
And in the spirit of open collaborative creativity to make our world a better place, the synergy of our conversation today has sparked the beginning of a new movement – the anonymous generosity movement, so listen out for what this means, what it means to you, and how you and everyone you know can start doing little daily invisible things that will have a massive positive impact on the world at large – watch this space, as Tommy has unleashed an invisible force of rippling continuous improvement here. Connect with Tommy on LinkedIn. 
Listen to this episode now and subscribe via Apple Podcasts, Spotify, PlayerFM, search Google Podcasts or the player below. 
Get Invested is the podcast dedicated to time poor professionals who want to work less and live more. Join Bushy Martin, one of Australia's top 10 property specialists, as he and his influential guests share know-how on the ways investing in property can unlock the life you always dreamed about and secure your financial future.
Remember to subscribe on your favourite podcast player, and if you're enjoying the show please leave us a review.
Find out more about Get Invested here 
Want to connect with Bushy? Get in touch here

Podcast produced by Apiro