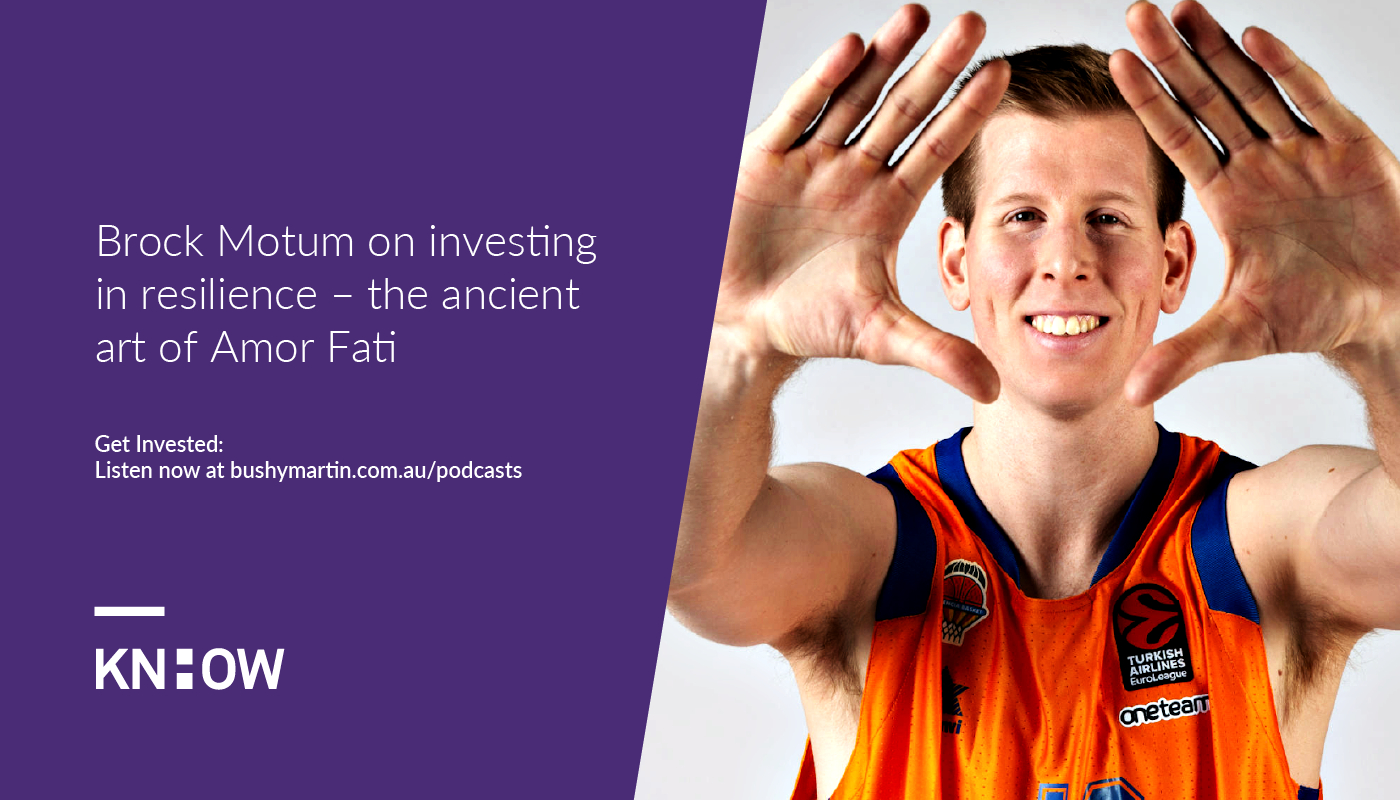 Basketball star Brock Motum's investments in all aspects of his life have paid off in many ways, but none more so than his dividends of resilience. 
Listen to this episode now and subscribe via Apple Podcasts, Spotify, Google Podcasts or PlayerFM . 
Despite missing out on achieving his lifelong goal of playing in the coveted NBA due to an untimely injury, Brock remains one of Australia's top basketballers who is not only thriving as an elite athlete on the global stage now, but also investing into the future of his young family. 
In a hyper competitive sport where your future is only as good as your performance in the next game, he continues to enjoy a long and rewarding career over many years as an international basketballer and Olympian with a passion for investing and paying it forward.
Brock's had and continues to have great success playing in Europe, the United States and Australia. He's represented his country with the Australian Boomers, playing in the 2016 Olympic Games and 2014 World Cup. 
At club level, Brock currently plays with Galatasaray in Turkey and has been playing in the Euroleague over the last six years, where he's been a Cup and League champion in both Lithuanian and Turkish leagues.
As a boy from the bush in Queensland, Brock made the Australian NBL first team in 2014/15 after initially making a name for himself in the US college system, as captain and scoring champion at Washington State University.
But Brock is much more than an athlete. He gained qualifications in psychology from Washington State and has a strong interest in investing, not just in his own wealth but in other people.
Brock loves looking for opportunities to pay it forward, including supporting and building up family, friends and even random people in the street through random acts of kindness. 
Brock is always looking for new ways and opportunities to create and grow wealth, which he talks about in our great conversation today.
He shares a number of stories and important insights, and answers your life and investment questions, including:
– Why is goal setting important?
– How is your psychological outlook important to your success?
– What do you need to do to make it?
– He shares his winning rituals and habits
– We discuss the difference between being great versus good
– He outlines his definition of financial freedom and why pay yourself first
– He goes over what he learned from training alongside the famous NBA champion Klay Thompson so listen out for that
-And he outlines the importance of self belief and a high work ethic
I'm proud to work with a number of Australia's top basketballers like Brock through KnowHow Property Finance's partnership with the Australian Basketball Players' Association – I really love this initiative, because the Association has identified the need to help athletes to capitalise on their great but often short lived wealth potential – and as you'll here from Brock, property is a great vehicle to help athletes build the life they love beyond their sporting careers. And we've built a program to help them and you, do just that.
And remember … this isn't just for elite athletes. If you want to find out more about how property can help set you build the life that you really want … get in touch with us at knowhowproperty.com.au and we'll talk you through your next steps.
In the meantime, remember to approach every day and every situation with Amor Fati Freedom Fighters, and now enjoy this great conversation with Brock Motum.
Listen to this episode now and subscribe via Apple Podcasts, Spotify, PlayerFM, search Google Podcasts or the player below. 
Get Invested is the podcast dedicated to time poor professionals who want to work less and live more. Join Bushy Martin, one of Australia's top 10 property specialists, as he and his influential guests share know-how on the ways investing in property can unlock the life you always dreamed about and secure your financial future.
Remember to subscribe on your favourite podcast player, and if you're enjoying the show please leave us a review.
Find out more about Get Invested here 
Want to connect with Bushy? Get in touch here

Podcast produced by Apiro