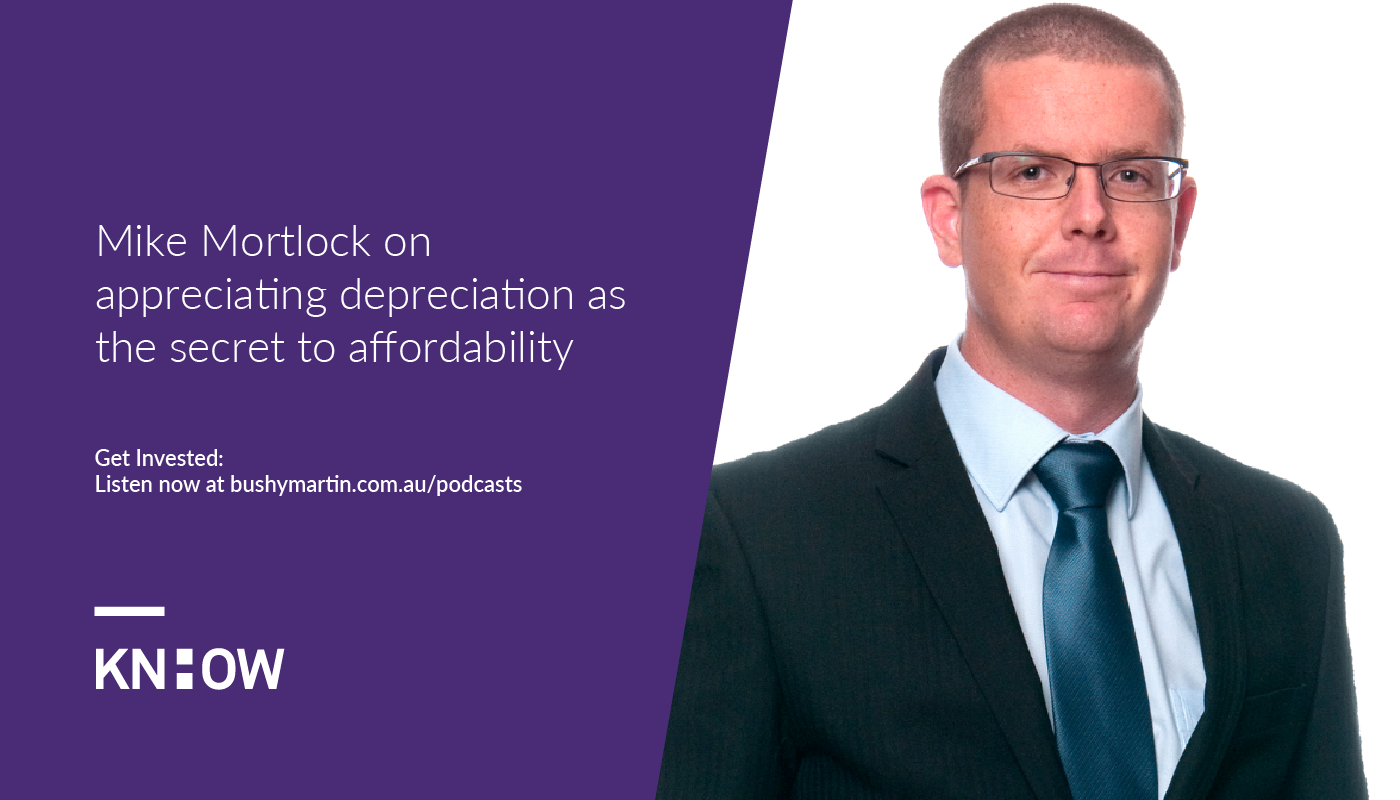 How can investors hold on to properties through a full lifecycle and beyond, without burning a massive hole in their pockets and a big cost to lifestyle?
Listen to this episode now and subscribe via Apple Podcasts, Spotify, Google Podcasts or PlayerFM . 
A major contributor to ongoing affordability is depreciation. Tax depreciation is a tax deduction claimed for the natural wear and tear of an income-producing building over time. And it's generally the second biggest tax deduction for property investors, after loan interest.
Joining the show to talk about this is Mike Mortlock, an industry leader in tax depreciation and managing director of MCG Quantity Surveyors, Australia's fastest growing QS firm and one of Australia's top 100 fastest growing companies.
As you'll hear during today's lively and entertaining discussion, Mike has worked as an expert depreciation consultant for a number of major companies over the years including McDonald's, Canberra Airport, Hilton Hotels, Stockland and many more. 
He has helped thousands of residential and commercial property investors maximise their tax depreciation deductions and the cash flow of their investments.
And Mike is also a sought after speaker and media commentator, regularly featured in the Australian Financial Review, realestate.com.au, news.com.au, Australian Property Investor and many other publications. 
Mike has a wealth of knowledge and a passion for maximising depreciation entitlements – while not a 'sexy' subject it is as important to investors as the air we breathe.

He is also the host of the Geared For Growth Property Investing Podcast, of which I have had the privilege of joining him as a guest recently.
There's some really important learnings for property investors in this podcast. Mike and I chat about:
– What are the biggest mistakes that investors make around property and depreciation and how you can avoid them?
– Why do many investors get their first purchase wrong? 
– And what impact does this have on achieving your long term goals?
– Mike talks about why your average investor isn't really nailing it 
– We go into why depreciation deductions are critical to maximising and maintaining your portfolio
Mike's unique position across the national property market enables him to share his insights on:
– What have we've learned from COVID and what should we be doing about it? 
– How COVID has affected our thinking and actions and how this will impact on how we live and where we live moving forward, along with how this will then affect property values and markets long term
– Mike covers what he see's as the key risks to our economy and property
– And he shares some great thoughts on what impact the proposed changes to lending law legislation, stamp duty changes and the opening of international borders will have on property moving forward.
And this is just the tip of the iceberg.
And Mike & MCG aren't just depreciation specialists – as a result of their unique position in collecting and collating property data for investors over the years, they've recently released their 1000 Assets Report which is a four year study of Australian investor behaviour, which is fascinating reading.
Here are a couple of highlights from the report to whet your appetite:
Australian residential real estate is a $6.7 trillion industry. That's almost $1 trillion dollars more than the combined value of Australian superannuation ($2.9 trillion), the stock market ($2 trillion) and commercial real estate ($1 trillion).
Best of all, residential real estate is robust. Over 51 per cent of the nation's household wealth is held in Australia's 10.3 million dwellings, and we buy and sell almost 400,000 properties each year with a total value nearing $250 billion.
And interestingly, In round figures, approximately only 2.2 million Australians own an investment property – which is less than 10 percent of the population. Of these investor figures, the vast majority of over 70 per cent own just one property. And those with two properties make up another 20 per cent – so over 90% of property investors own no more than two properties – and I'm sure that a lot of this has to do with the ongoing cash flow affordability of holding property long term.
MCG's research also indicated that as many as one in four become investors simply because they retain one home when it comes time to move to another.
This means that despite perceptions to the contrary, property investment isn't dominated by the nation's upper echelon of wealth holders – far from it. Most property investors are typical hard working Mum and Dad Australians like you and me, and many could be classed as 'accidental investors' who keep and rent an existing property when they buy another one.
And Mike has very generously offered free copies of the report to listeners of Get Invested, so if you want to get your hands on one, just click here: https://www.mcgqs.com.au/bushy/
After you enjoy this engaging and entertaining interview, you'll be inspired to level up as a property investor. And now continues to be a rare window of opportunity to take advantage of once in 20 year conditions. But what next? 
Come and join Bushy Martin as he takes investors to new heights with his unique KnowHow Property Freedom Flight program, where he'll personally guide you through his proven process for property investment success. 
To book your ticket or find out more, click here:  https://knowhowproperty.com.au/freedom-fighters
Listen to this episode now and subscribe via Apple Podcasts, Spotify, PlayerFM, search Google Podcasts or the player below. 
Get Invested is the podcast dedicated to time poor professionals who want to work less and live more. Join Bushy Martin, one of Australia's top 10 property specialists, as he and his influential guests share know-how on the ways investing in property can unlock the life you always dreamed about and secure your financial future.
Remember to subscribe on your favourite podcast player, and if you're enjoying the show please leave us a review.
Find out more about Get Invested here 
Want to connect with Bushy? Get in touch here

Podcast produced by Apiro