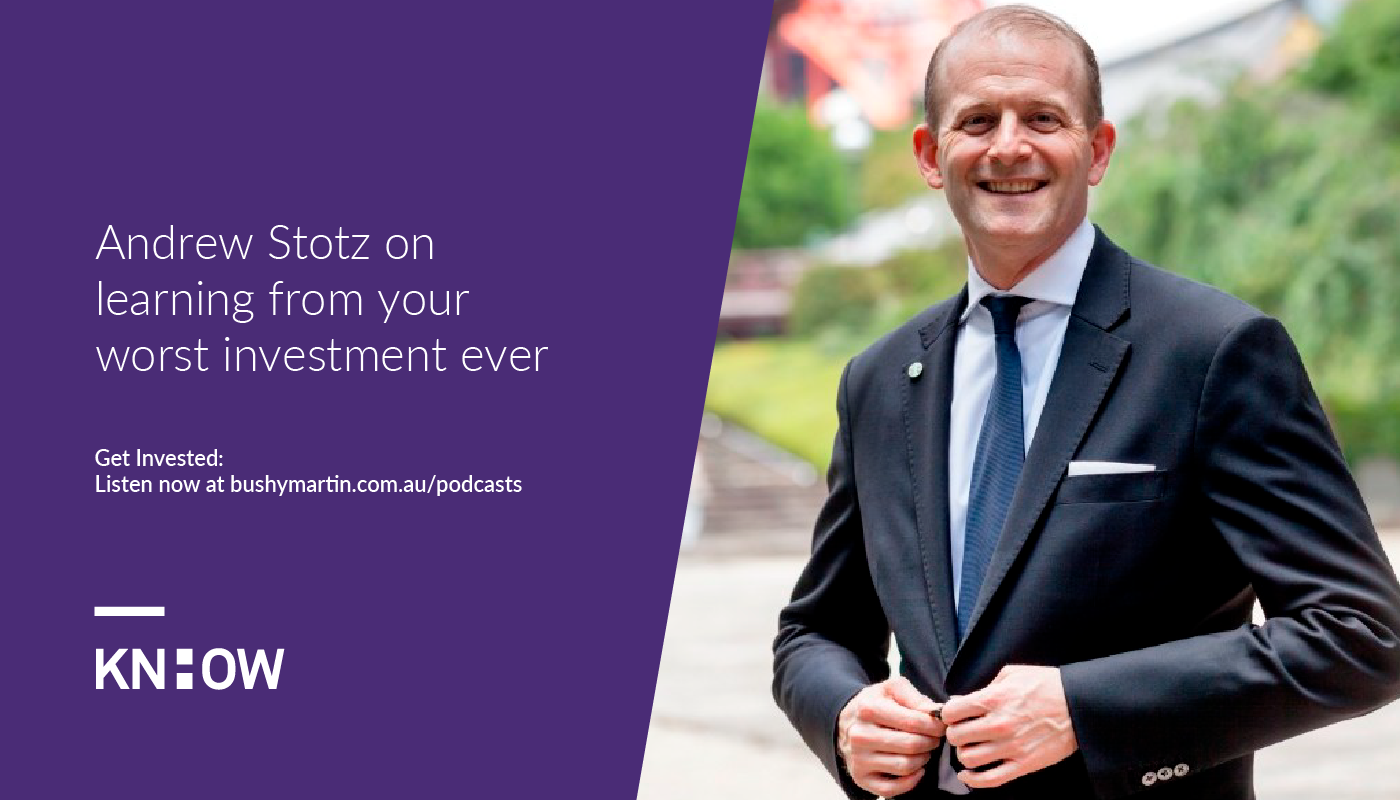 What was your worst investment ever? And is it your secret shame, or has it become the seed of your biggest learnings and opportunities? This is where our guest, Dr Andrew Stotz, comes in.
Listen to this episode now and subscribe via Apple Podcasts, Spotify, Google Podcasts or PlayerFM . 
Andrew reveals the six strategies that you can adopt to overcome common money losing mistakes and fast track your pathway to success.
Andrew is very well qualified to identify and help you overcome investment hurdles and to assist you become a successful investor.
He is the author of multiple finance and investment books, a recognised finance expert, an angel investor, and a self-professed happy guy.
He's an award-winning financial analyst with more than two decades of experience in leading positions in the industry and as a university lecturer of finance.
Andrew is driven by empowering and helping you to achieve your goals through sharing his financial expertise. It doesn't matter if you're a student, someone who wants to take control of your own finances, a fund manager for a global institution or a Fortune 500 CEO.
He's also a hands on business owner as co-founder of CoffeeWORKS, a leading specialty coffee roaster in Thailand that has been trading now for nearly three decades.
In 2013, Andrew retired from a 20 year career as an equity analyst at various investment banks in Thailand, to set up his own company. 
His last senior corporate role was as a portfolio strategist and managing director of the International Business Department at Maybank Kim Eng Securities in (Thailand).
As the founder and current CEO of A. Stotz Investment Research (ASIR), his company provides institutional and high net worth investors with ready-to-invest stock portfolios that aim to beat the benchmark through superior stock selection.
ASIR also provides institutional investors and fund managers with financial services such as valuation, stock selection, and portfolio creation in Asian markets, based on his proprietary FVMR methodology. 
This unique methodology aims to not only favour one style such as value or growth, but instead considers the four elements of Fundamentals, Valuation, Momentum, and Risk (FVMR). 
In addition, Andrew was the former President of the Chartered Financial Analysts or CFA Society of Thailand, and he's a renowned public speaker on topics such as investing, valuation, and management related to the famous Dr. Deming's quality teachings. 
Over the last few years, Andrew and ASIR have made much of their research free and publicly available through their great initiative Become a Better Investor.
Andrew also offers his highly respected Valuation Master Class with an aim to help people build great careers in finance with more than 1,000 students from over 30 countries currently completing it.
He's a recognised public speaker and commentator on matters of investing in Thailand and Asia in general, and is a sought after commentator for Bloomberg, US News, The Star and other regional and global news outlets.
Andrew is also a multiple award winning author of a number of books, including How to Start Building Your Wealth Investing in the Stock Market, Transform Your Business with Dr. Deming's 14 Points, 9 Valuation Mistakes and How to Avoid Them and My Worst Investment Ever, which echoes the title of his very popular and highly respected podcast of the same name (be sure you subscribe to this show, you won't regret it).    
And what I really respect about Andrew is that his incredible personal and professional success has been achieved despite his extremely challenging childhood beginnings that have helped him to maintain his humility, genuine warm empathy and care for others – you'll be really moved and inspired by his life story.   
These early years inspired Andrew's multi-pronged financial education approach that helps you to create, grow, measure, and protect your wealth. 
Now in this great conversation, Andrew not only shares his key six strategies to avoid the biggest investment mistakes, but he also unpacks lots of immediately usable investment gold
and answers all of your other key investment questions including: 
– The two proven ways to grow wealth
– His unique FVMR and quantimental investment approach
– How to create a cash machine
– The four key things you need to consider before investing in a business
– Amongst lots of other investment gems
And we also talk about the TLC Challenge that we jointly created in the moment on his podcast, so make sure you listen out for this, and email me at bushy@knowhowproperty.com.au with how you respond to the TLC Challenge.
A special deal for Get Invested listeners:
Andrew's course How to Start Building Your Wealth Investing in the Stock Market is a proven, step-by-step system that will transform you from feeling overwhelmed about investing to being in control of your financial future.
It is an online, video-based training program that teaches beginners to become confident investors and build their wealth over the long-run.
The first ten people who sign up get a 50% discount on Andrew's course on investing for beginners. After the first 10 we will reduce the discount to 25%. 
Get Invested listeners can access this exclusive deal here.
And you can view all of Andrew's courses here.
Freedom Flight for property investors:
If property is more your thing, and you'd like to optimise your performance in property investment, we're taking investors to new heights in our unique Freedom Flight program
that gives you access to our Freedom Flight live interactive information sessions and unique portfolio planning process.
To book your ticket or to find out more, just click here.
Listen to this episode now and subscribe via Apple Podcasts, Spotify, PlayerFM, search Google Podcasts or the player below. 
Get Invested is the podcast dedicated to time poor professionals who want to work less and live more. Join Bushy Martin, one of Australia's top 10 property specialists, as he and his influential guests share know-how on the ways investing in property can unlock the life you always dreamed about and secure your financial future.
Remember to subscribe on your favourite podcast player, and if you're enjoying the show please leave us a review.
Find out more about Get Invested here 
Want to connect with Bushy? Get in touch here

Podcast produced by Apiro