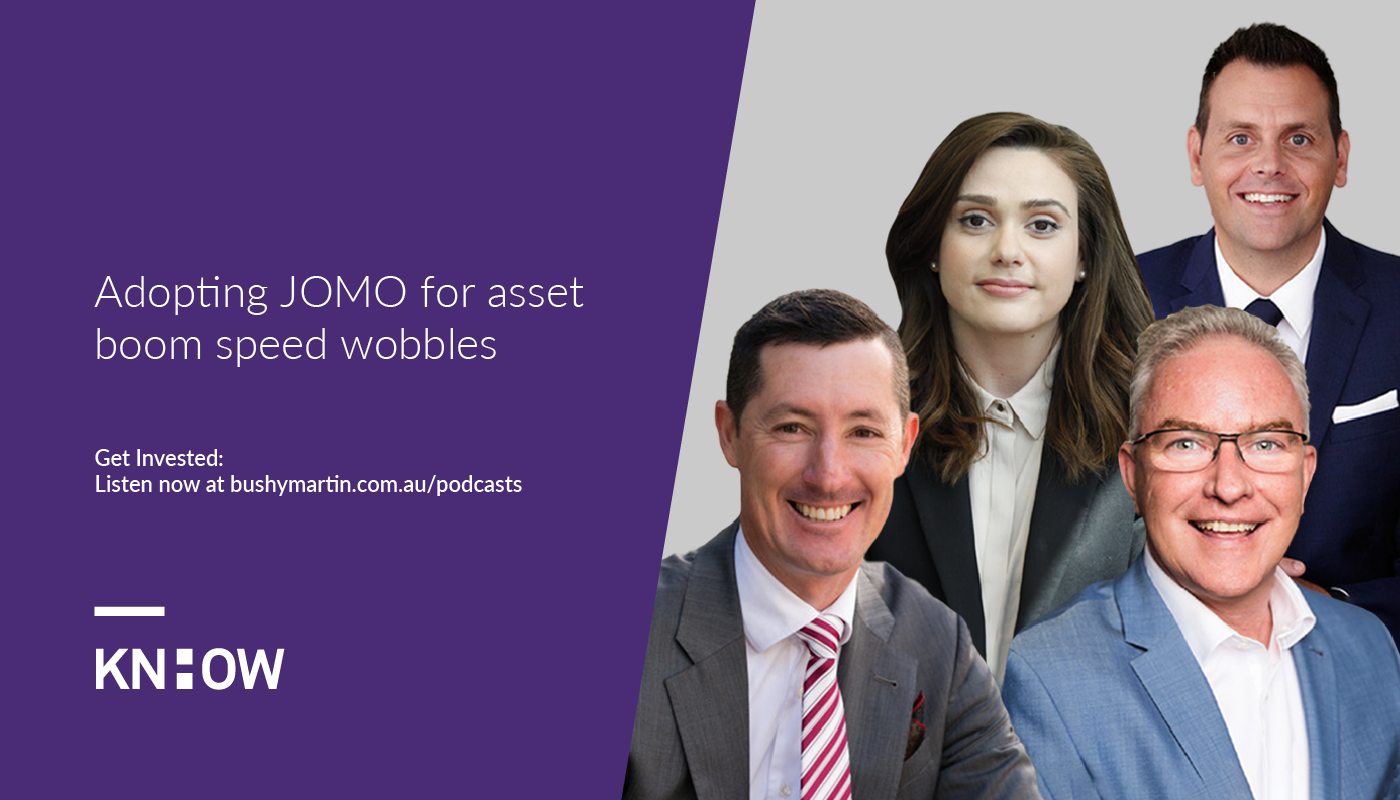 We've got an episode packed with expert insights to help you understand what has happened, what is happening and what is coming in the world of investment.
Listen to this episode now and subscribe via Apple Podcasts, Spotify, Google Podcasts or PlayerFM . 
In this episode, I talk about transitioning from Fear Of Missing Out to the Joy Of Missing Out for investment success in crazy times.
We also replay an important Realty Talk episode where property industry leaders Eliza Owen from Core Logic, Simon Pressley from Propertyology and Stuart Wemyss from Pro Solutions cover what is happening with property values and rentals in Australia, how long the property 'boom' will last, new thinking about investment portfolios and so much more.
Resources and insights
Watch Australia's top online real estate show, Kevin Turner's Realty Talk, now hosted by Bushy Martin: https://channels.realty.com.au/realtytalk/ 
How to handle asset bubble speed wobbles (Property Tribune): https://thepropertytribune.com.au/news/how-to-handle-the-speed-wobbles-of-australian-property/
To increase your investment knowledge is to grab a copy my book The Freedom Formula where I share the full step by step guide to achieving financial freedom that has worked for Sonya and I along with nearly 2,000 other investors we've helped over the years, so just visit https://bushymartin.com.au/books/ where you can also grab yourself a free copy of my award winning Get Invested book.
And if you're ready to find out how property investment can support your growth goals and create the life you were meant to live, or to improve on your current property portfolio so that it's working much better for you, feel free to join me live on our unique KnowHow Property Freedom Flight program, where I'll personally guide you through our proven process for investment success. 
To book your ticket or find out more, just click on the link in the show notes at click here https://knowhowproperty.com.au/freedom-fighters.
Or … if you just want to have a chat with myself or one of our amazing Know How Property team to answer your burning questions, just jump on https://knowhowproperty.com.au and get in touch.
Listen to this episode now and subscribe via Apple Podcasts, Spotify, PlayerFM, search Google Podcasts or the player below. 
Get Invested is the leading weekly podcast for Australians who want to learn how to unlock their full 'self, health and wealth' potential.
Hosted by Bushy Martin, an award winning property investor, founder, author and media commentator who is recognised as one of Australia's most trusted experts in property, investment and lifestyle, Get Invested reveals the secrets of the high performers who invest for success in every aspect of their lives and the world around them.
Remember to subscribe on your favourite podcast player, and if you're enjoying the show please leave us a review.
Find out more about Get Invested here 
Want to connect with Bushy? Get in touch here

Podcast produced by Apiro