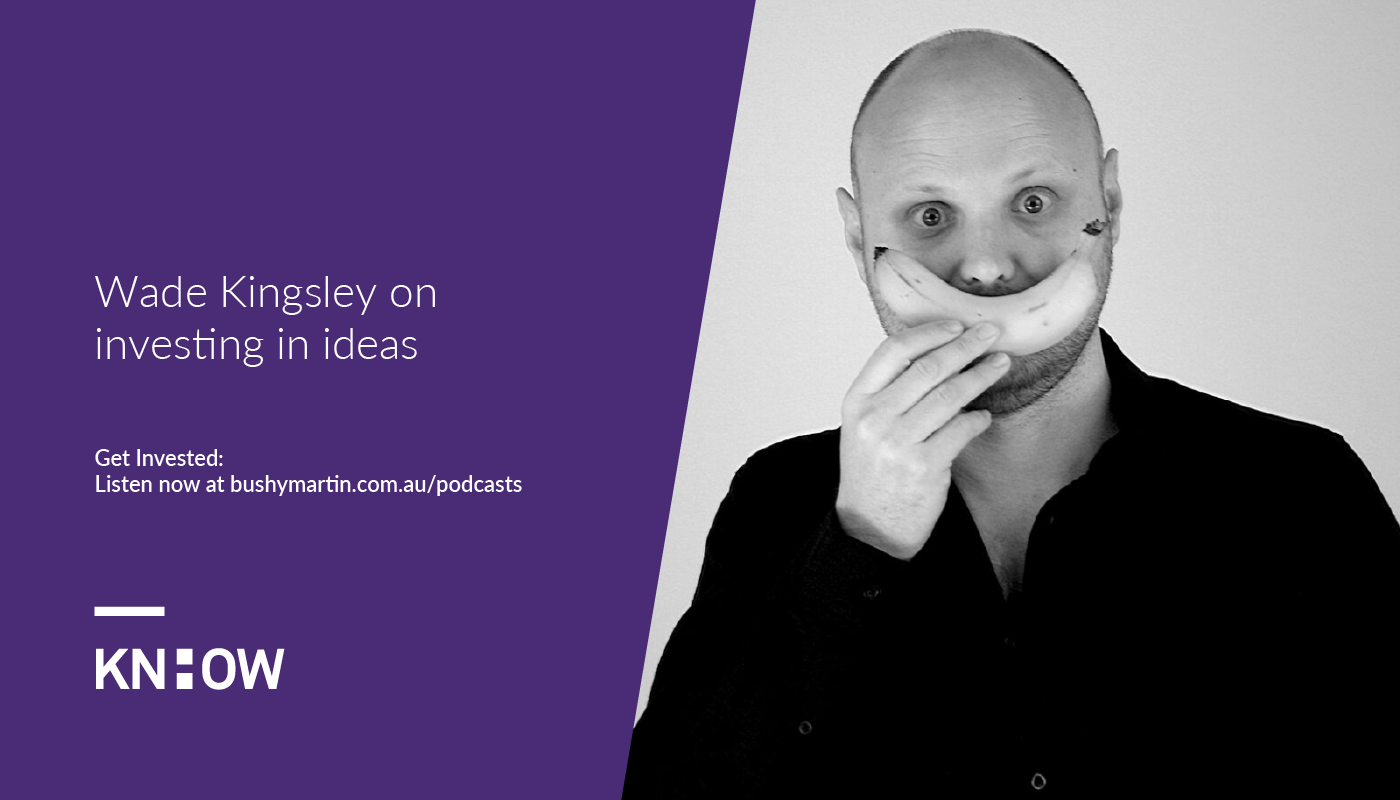 Creative coach and ideas guy Wade Kingsley says "brainstorming is bullshit". So if it's no good at stimulating creativity and generating ideas, what do we do?
Listen to this episode now and subscribe via Apple Podcasts, Spotify, Google Podcasts or PlayerFM . 
Wade explains how in this super creative conversation, helping you bring out your creative potential … something he's been doing for more than 25 years.
He's the founder of The Ideas Business – a company that helps you use creativity to solve problems through workshops and facilitation of Ideas Sessions. 
And after high demand for Wade to teach his creative methodology, he recently launched The Creative Champions Course.
Prior to launching The Ideas Business, Wade was General Manager at Vizeum Melbourne, a media agency that's part of the Dentsu Aegis Network.
He also founded The Studio, the internal Creative Services Team at Southern Cross Austereo.
He's also the former Ideas Director and Marketing & Promotions Director at Nova Entertainment.
Wade has spoken about creativity at conferences and events in Australia and around the world, including the famous 'Brainstorming Is Bullshit' keynote that I refer to and draw on in my introduction.
Wade is on a mission to create more creatives, and he covers the following (and more) in our chat: 
How do you define creativity and idea generation?
Is creativity and ideation a natural talent or a developed skill?
What separates a creative champion from a non-creative conformer?
What are the core strengths of Creative Champions?

How can everyone become more creative?
How can you learn to ask the best questions? 
How can you keep your creative skills engaged and active?
We discuss the concept of 'Who luck'
He details why we need to develop a curious, questioning mind
The importance of developing 'Wise Up' questions
The benefits of pushing yourself off the creative cliff
Why his motto 'If you don't ask you don't get' has been fundamental to his success
And he walks us through the fundamentals of good creative ideas, approaches and processes 
And if you want to take your creativity and ideas generation to the next level you can reach out to Wade and work with him and the Ideas Business team, and reignite your creative practice by doing the Creative Champions course – just go to https://www.creativechampionscourse.com/. 
If you want to free up more time for creativity and living life on your own terms, property investment can empower you to live by design, just as it has done for my wife Sonya and I and the other 1800 investors that we are helping on the journey to financial freedom.  
To find out how you can get started in property investment, or how to become a better investor if it isn't working for you, join me live on our unique KnowHow Property Freedom Flight program, where I'll personally guide you through my proven process for property investment and lifestyle success. 
To book your ticket or find out more, just click here.
Listen to this episode now and subscribe via Apple Podcasts, Spotify, PlayerFM, search Google Podcasts or the player below. 
Get Invested is the leading weekly podcast for Australians who want to learn how to unlock their full 'self, health and wealth' potential.
Hosted by Bushy Martin, an award winning property investor, founder, author and media commentator who is recognised as one of Australia's most trusted experts in property, investment and lifestyle, Get Invested reveals the secrets of the high performers who invest for success in every aspect of their lives and the world around them.
Remember to subscribe on your favourite podcast player, and if you're enjoying the show please leave us a review.
Find out more about Get Invested here 
Want to connect with Bushy? Get in touch here

Podcast produced by Apiro