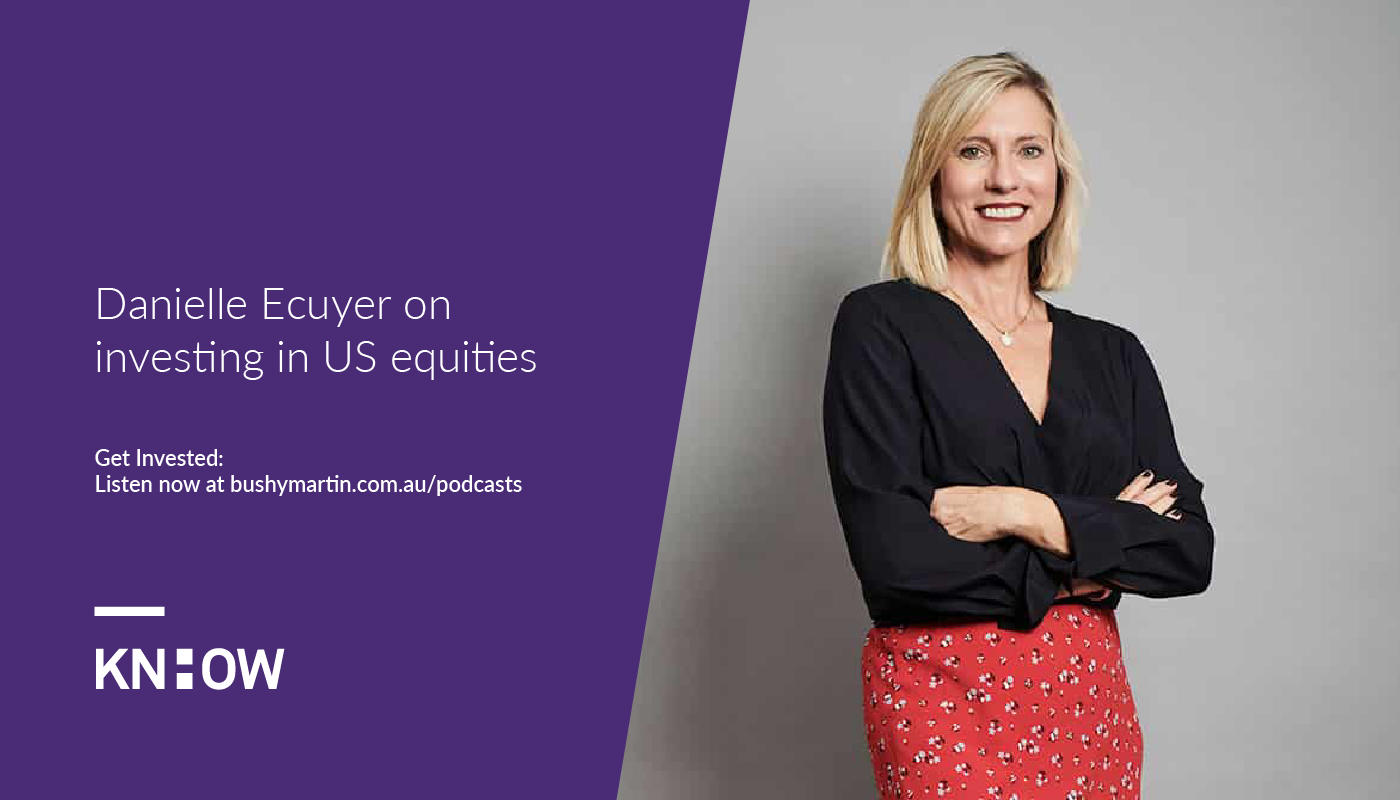 Want to open up your investment world by tapping into the United States? While there are risks there are great rewards, says Danielle Ecuyer.
Listen to this episode now and subscribe via Apple Podcasts, Spotify, Google Podcasts or PlayerFM . 
With the massive change that's happening in the world comes massive opportunity. And the reality is that most of the big innovative companies that will shape the future are based in the US.
Investing in the US stock market creates diversity in your share portfolio. It offers access to far more themes and opportunities than any other market in the world, dwarfing those available in Australia.
So if you're looking to increase your knowledge and process in investing in US markets then today's returning guest Danielle Ecuyer can help you.
Because if you're looking for more clarity and confidence on how to invest in shares and equities in the US market in all of its myriad forms, Danielle is your perfect compliment.
Danielle has been actively involved in the share market for four decades. Beginning her career as an equities analyst and advisor, she held senior roles in large investment firms in both Australia and the UK.  
And For the past 13 years she's been a private investor where her main income source is derived from her own investments – so she walks her talk! 
If you want her full history, go back and have a listen to Get Invested episode 132 where we discussed her first book Shareplicity, which distilled her years of global share market experience into a handy guide to share market investing.
Danielle has a happy knack of taking the complexity out of share investing, she explains concepts simply and in plain English, and provides go-to steps to help you start or improve your investing.
And she has recently published her very timely sequel Shareplicity 2 – A guide to investing in US stock markets.
Today's wide ranging discussion on all things equity investing goes into:
Understanding risk tolerance

The impact of the financialisation of the world

The impacts of inflation, deflation, disinflation and reflation

The mega trends that will impact investment markets in the future including decarbonisation, digitalisation, fintech disruption, geo borders, gaming, blockchain and cryptocurrencies

What it means for companies to weaponise their share prices

Where to start in building your equities portfolio

ETF's versus direct stock picking

Danielle's views on the current talk about market bubbles and the dangers of leverage

A warning about the risks of cheap trading platforms and the importance of knowing who are the custodians of the money behind them

Thoughts on emerging markets
Along with much much more.
Get a copy of Shareplicity 2 for free:
Danielle has made it easy for you to get your very own copy of her new book Shareplicity 2, with an exclusive limited offer for a lucky Get Invested listener.  Just email Bushy at bushy@knowhowproperty.com.au with the best suggestion on why you deserve to get this free copy.
Get 'Self, Health and Wealth' wisdom in your inbox:
Join me and many other like minded investors in our Get Invested community … and I'd love for you to join us, right now. 
I send a free and exclusive monthly email full of practical 'Self, Health and Wealth' wisdom that our current Freedom Fighter subscribers can't wait to get each month. It's full of investment and lifestyle tips, my personal book recommendations, apps I use to enhance life and so much more. Just visit bushymartin.com.au and sign up at the bottom of the page … because this is just the beginning!
Listen to this episode now and subscribe via Apple Podcasts, Spotify, PlayerFM, search Google Podcasts or the player below. 
Get Invested is the leading weekly podcast for Australians who want to learn how to unlock their full 'self, health and wealth' potential.
Hosted by Bushy Martin, an award winning property investor, founder, author and media commentator who is recognised as one of Australia's most trusted experts in property, investment and lifestyle, Get Invested reveals the secrets of the high performers who invest for success in every aspect of their lives and the world around them.
Remember to subscribe on your favourite podcast player, and if you're enjoying the show please leave us a review.
Find out more about Get Invested here 
Want to connect with Bushy? Get in touch here

Podcast produced by Apiro