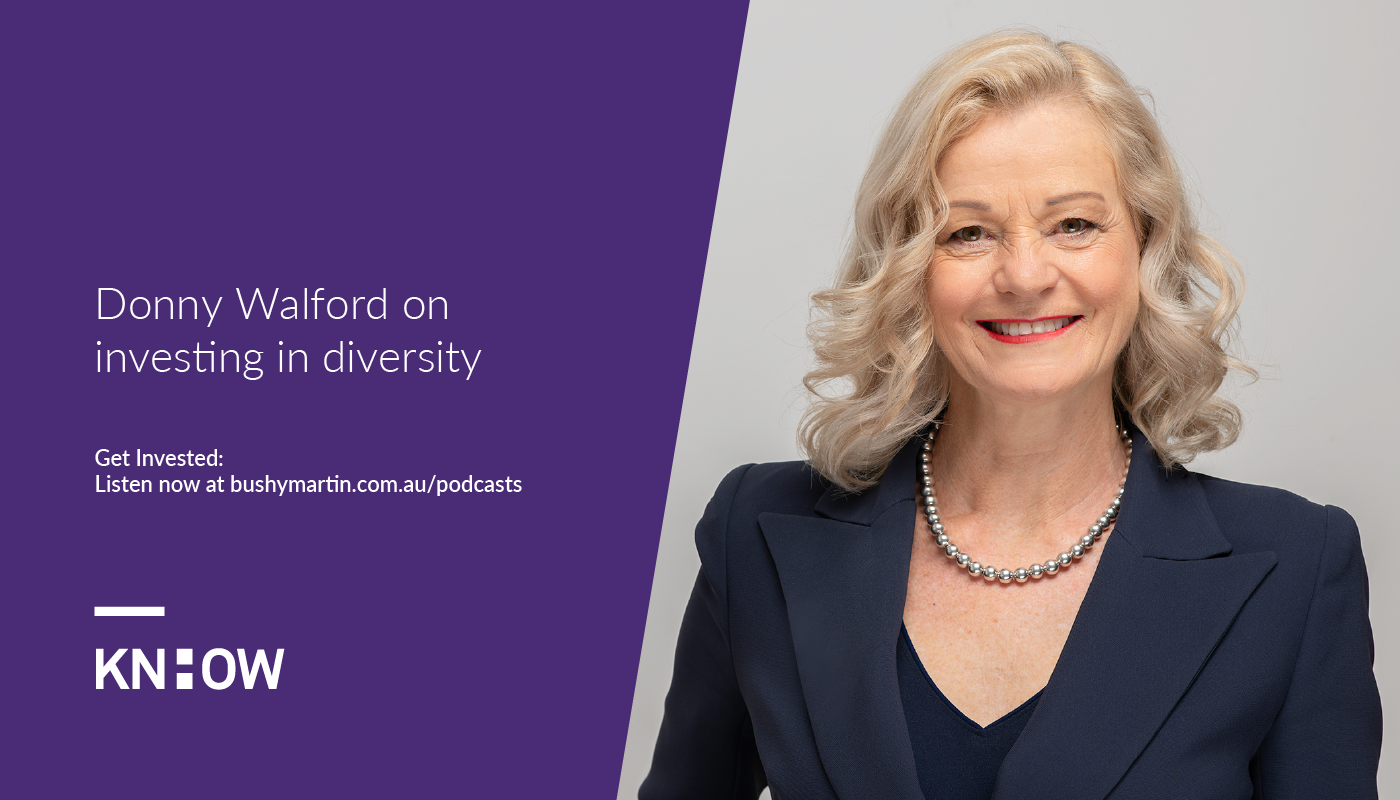 If you want to invest in true diversity, equality and inclusion, you need to listen to Donny Walford.
Listen to this episode now and subscribe via Apple Podcasts, Spotify, Google Podcasts or PlayerFM . 
Donny is an accomplished executive coach, presenter, blogger, and passionate Adelaide Crows supporter. She's also passionate about business, people development, helping women and economic development in Australia.
Donny is an experienced Non-Executive Director and CEO with specific skills in Strategy, Finance and Strategic Marketing.
Donny is Dedicated to maximising the performance of individuals and businesses as a coach and mentor, and through her companies, Behind Closed Doors and Bottom Line.
Donny is passionate about business and economic development in Australia and committed to improving the number of women in executive roles and diversity on Australian boards – including diversity of skills, gender, ethnicity, backgrounds, younger people and more women chairing boards.
Donny has enjoyed considerable success working with boards, executives, senior management and business owners across industry, government and the not-for-profit sector.
She's led the sales, marketing and banking division of Australia's leading Executive Recruitment Company, Morgan & Banks (now Hudson Ltd where I personally worked alongside Donny for a couple of years) before she was appointed as  General Manager, Marketing and Business Development, with the SA Employers Chamber of Commerce and Industry, trading as Business SA.
Donny joined the South Australian Government as Executive Director of Invest South Australia, where she was responsible for foreign direct investment from interstate and overseas. 
She was also the inaugural Chief Executive of Defence SA, a division of the Department of Trade and Economic Development. 
Following this Donny held a number of leadership positions including Chief Executive Officer at Viva SA Inc. (formerly known as Business Vision 2010), Chairperson of the Australian Dance Theatre,
and was Director on a number of Boards including the Social Inclusion Board, Zero Waste Management Board, Australian Associated Advisors, Repat Foundation, Heart Foundation SA, SA Great, Advisory Board Director for the Salvation Army SA and a Founding Member of International Women's Forum Membership committee.
Donny won the Asia Pacific Business Council for Woman of Distinction Award and was also a National judge for the Telstra Business Women of the Year Awards and National judge for the Business Awards.
So in today's wide ranging and very informative chat, we answer all of your questions in relation to:
– Diversity and inclusion
– The traps of unconscious bias
– Quotas, targets and merit selection
– Boards and how they work
– The traps of being a natural workaholic and perfectionist and what to do about it
– The critical need for focus
– The importance of mentors
– Donny's property investment and share investment journey along with her definition of sustainable success
– The importance of accountability
And much more, so you're in for a real treat. Enjoy the conversation.
Find out more about Behind Closed Doors and Bottom Line:
https://www.behindcloseddoors.com/ & https://dwbottomline.com/ 
Get 'Self, Health and Wealth' wisdom in your inbox:
Join me and many other like minded investors in our Get Invested community … and I'd love for you to join us, right now. 
I send a free and exclusive monthly email full of practical 'Self, Health and Wealth' wisdom that our current Freedom Fighter subscribers can't wait to get each month. It's full of investment and lifestyle tips, my personal book recommendations, apps I use to enhance life and so much more. Just visit bushymartin.com.au and sign up at the bottom of the page … because this is just the beginning!
Listen to this episode now and subscribe via Apple Podcasts, Spotify, PlayerFM, search Google Podcasts or the player below. 
Get Invested is the leading weekly podcast for Australians who want to learn how to unlock their full 'self, health and wealth' potential.
Hosted by Bushy Martin, an award winning property investor, founder, author and media commentator who is recognised as one of Australia's most trusted experts in property, investment and lifestyle, Get Invested reveals the secrets of the high performers who invest for success in every aspect of their lives and the world around them.
Remember to subscribe on your favourite podcast player, and if you're enjoying the show please leave us a review.
Find out more about Get Invested here 
Want to connect with Bushy? Get in touch here

Podcast produced by Apiro