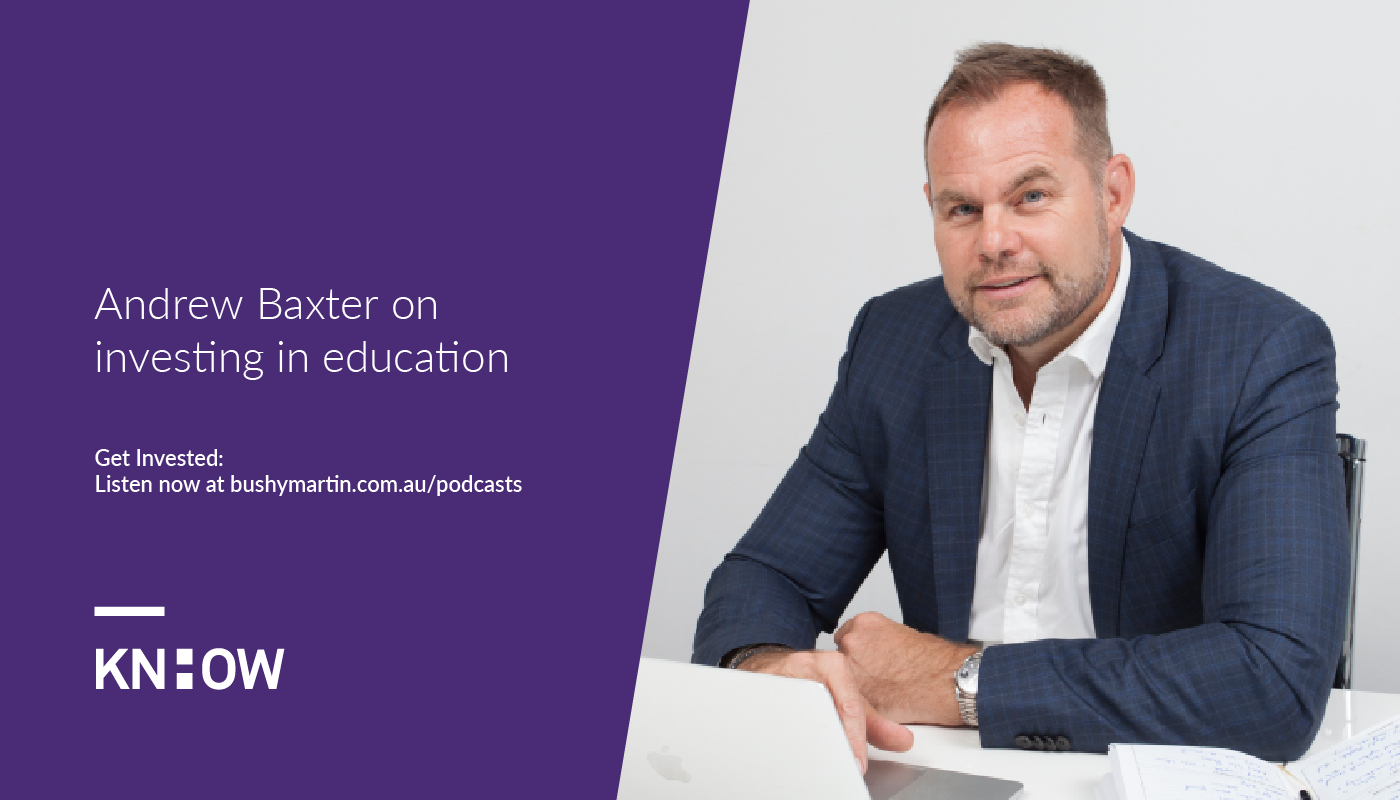 When it comes to investment, there's never been a more important time to get educated and build a solid set of investment principles.
Listen to this episode now and subscribe via Apple Podcasts, Spotify, Google Podcasts or PlayerFM . 
For me (Bushy), some of these timeless investment principles and lessons learned are:
It's all about time
Don't waste your time and money trying to outperform the market
Investments behave randomly in the short term
Avoid the traps and costs of overly actively trading
Don't chase returns
Diversify across uncorrelated assets
Be very wary of investment market forecasts and projections
And the best way to inculcate these and other investment lessons is to continuously improve your investment education.
This is a fundamental belief of our guest Andrew Baxter.
Andrew is the founder and CEO of Australian Investment Education. His career started at the hub of global investment markets, the City Of London. There, he worked for some of the largest institutions building up a broad based expertise in trading and investing across global markets. Since his move to Australia in 1999, he has been on a mission to educate and empower everyday investors on how to build better returns, manage risk and ultimately enjoy a richer life. 
He has been invited to speak around the world alongside some of the biggest names in the personal development and wealth space. In Andrew's own words, his flagship, Australian Investment Education, brings together the complexities of financial markets and distills them down into simple, bite sized chunks that just about anyone can follow. 
In addition to training and education, Andrew Baxter is the owner and director of a number of companies ranging across areas such as Advisory, Financial Technology, Brokerage, Financial Planning and Accounting.
You can find out more Andrew and Australian Investment Education on his Money and Investing podcast or at www.australianinvestmenteducation.com.au.
Like all things investment, you'll need to do your own detailed due diligence before deciding to proceed with Australian Investment Education.
And I also stress that Australian Investment Education's 'cash flow on demand' options trading strategy is not for the beginner or the uninitiated – there are inherent, unseen risks in options trading if you don't know what you are doing, so ensure that you fully educate yourself and historically backtest your trading system in detail before you put your hard cash on the dash – again it's all about investing in your education first before investing in assets.  
Now in our lively and entertaining chat today, Andrew talks about:
Away and towards values
The danger of assuming your work success translates into investing success 
His cash flow on demand options income strategy
The importance of intention, motivation and self reflection on your investing success
The need to really know yourself and where you want to get to
The importance of developing your process in line with your skills evolution
Indices versus stock picking – Exchange Traded Funds – passive investment, diversification 
His view on the risks of the unregulated maverick crypto market and the future potential of blockchain technology 
And much much more!
Get 'Self, Health and Wealth' wisdom in your inbox:
Join me and many other like minded investors in our Get Invested community. I send a free and exclusive monthly email full of practical 'Self, Health and Wealth' wisdom that our current Freedom Fighter subscribers can't wait to get each month. It's full of investment and lifestyle tips, my personal book recommendations, apps I use to enhance life and so much more. Just visit bushymartin.com.au and sign up at the bottom of the page … because this is just the beginning!
Listen to this episode now and subscribe via Apple Podcasts, Spotify, PlayerFM, search Google Podcasts or the player below. 
Get Invested is the leading weekly podcast for Australians who want to learn how to unlock their full 'self, health and wealth' potential.
Hosted by Bushy Martin, an award winning property investor, founder, author and media commentator who is recognised as one of Australia's most trusted experts in property, investment and lifestyle, Get Invested reveals the secrets of the high performers who invest for success in every aspect of their lives and the world around them.
Remember to subscribe on your favourite podcast player, and if you're enjoying the show please leave us a review.
Find out more about Get Invested here 
Want to connect with Bushy? Get in touch here

Podcast produced by Apiro