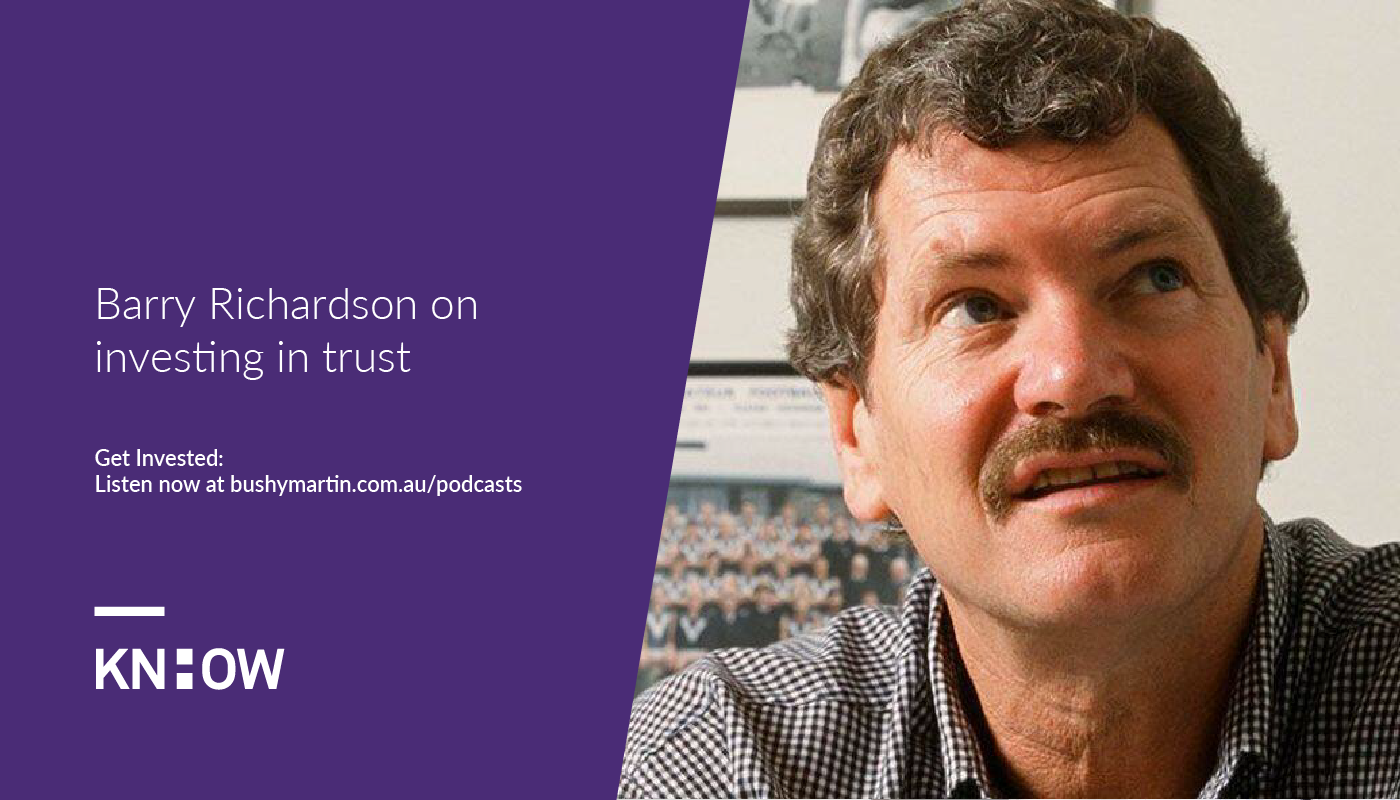 Who do you trust, and who can you trust? In these troubled and challenging times, building trust is key to achieving sustainable success.
Listen to this episode now and subscribe via Apple Podcasts, Spotify, Google Podcasts or PlayerFM . 
One of the best living examples of someone who exemplifies all of the rare qualities of trust and supportive leadership in a genuine, humble way is our guest Barry Richardson.
Barry is one of those people that was brought up to believe that your word is your deed and that everything is signed and sealed by simply looking someone squarely in the eye and giving them a handshake.
If Barry says he's going to do something he does it, and he stays true to his principles and will walk away if someone tries to compromise them. He's consistently true to himself and true to all of those around him.
Barry, also known as 'Bones', is one of those rare wise men that speaks his truth quietly and humbly, but when he talks, you just stop and listen.
He's the embodiment of that old saying 'that a wise man only talks when he has something to say, but a fool talks because he has to say something.'
I've been a massive fan of Barry's since the 1960s during his glory days as a premiership VFL footballer for my team the mighty Richmond Tigers, and he went on to become the coach and then the club president – and there are very very few who have achieved this level of total accomplishment.
So to set the scene so that you can appreciate the full spectrum of Barry Richardson's incredible achievements, here's a brief snapshot. 
As an elite footballer he kicked 134 goals and played 125 games over nine seasons from 1965 to 1974 and won three premierships during the Richmond Tigers' golden age (in 1967,69 & 74) when he played in Richmond's first drought breaking and winning premiership for over 24 years.
This was an amazing feat during the time when the game was yet to become professional and players were part time, holding down full time jobs and working careers in order to pay their way.
Bones played during the rough and tough days of mud, blood and beer and was one of 'Hafey's Heroes' when he was coached by the club's team of the century coach, Tommy Hafey, who was famous for always saying 'I'm sensational but getting better!' 
These were the days when the coach led by example and Tommy was still doing a thousand sit ups a day and 200 pushups when he was well into his 70s, and this daily discipline has rubbed off on Barry who still keeps himself fit at a similar age.
Two years after retiring from playing, Bones won the difficult job of coach of the Richmond Tigers, which was a big ask, taking over from the legendary Tommy Hafey and being in charge of many of his former team mates at just 30 years of age.
Many commended Barry for his inclusive, trusting approach that was way ahead of the time. This was a cut throat era in the game, when the instant pressure to perform from the ferocious and impatient Tiger Army, created a mistrusting environment where the Tigers administration would constantly eat their young by only offering coaches one year contracts and then regularly sacking them.
So Barry lasted two seasons as coach, which was more than most during this revolving door period. This was an environment where the pressure to perform created an endemic culture of mistrust
that led to Richmond's lost years, going without a premiership for another 34 years.
But on the strength of his always trustworthy and dependable approach, Barry was far from done in the corridors of football, joining the Melbourne Demons in 1981 as Chairman of Selectors, before returning to Richmond in the haloed position of Club President for a year. He resigned on principle, when his handshake deal with the then coach was overturned by the administration. 
His trustworthy, reliable approach was further rewarded when he then joined the West Coast Eagles, before spending time at Melbourne, Carlton and Geelong.
And Barry's high achievements weren't restricted to football. Professionally, he was a pioneer of sports physiotherapy and he's stayed at the forefront of his profession with a client list that includes the who's who of world wide elite sport during those days, including legendary cricketer Dennis Lillee, AFL legend Ron Barassi, US tennis star Jimmy Connors and world famous ice skaters Torville and Dean.
Barry is one of those rare individuals who has managed to balance the competing pressures of family, elite sport and his professional career as a sports physio.
Throughout his personal, professional and sporting career, Barry's cool, calm and collected demeanour engendered instant trust, respect and admiration from anyone who knew him, and he's been described as versatile, valiant, valuable and victorious – which sums him up perfectly. 
And the reason he reached the giddy heights of stardom and sustainable success both on and off the football field, and in his thriving business as a physio to the world's greats, all comes down to his reliable, dependable trustworthiness and the respect this has engendered, and you'll hear all about this in our great conversation today.
Get 'Self, Health and Wealth' wisdom in your inbox:
Join me and many other like minded investors in our Get Invested community. I send a free and exclusive monthly email full of practical 'Self, Health and Wealth' wisdom that our current Freedom Fighter subscribers can't wait to get each month. It's full of investment and lifestyle tips, my personal book recommendations, apps I use to enhance life and so much more. Just visit bushymartin.com.au and sign up at the bottom of the page … because this is just the beginning!
Listen to this episode now and subscribe via Apple Podcasts, Spotify, PlayerFM, search Google Podcasts or the player below. 
Get Invested is the leading weekly podcast for Australians who want to learn how to unlock their full 'self, health and wealth' potential.
Hosted by Bushy Martin, an award winning property investor, founder, author and media commentator who is recognised as one of Australia's most trusted experts in property, investment and lifestyle, Get Invested reveals the secrets of the high performers who invest for success in every aspect of their lives and the world around them.
Remember to subscribe on your favourite podcast player, and if you're enjoying the show please leave us a review.
Find out more about Get Invested here 
Want to connect with Bushy? Get in touch here

Podcast produced by Apiro