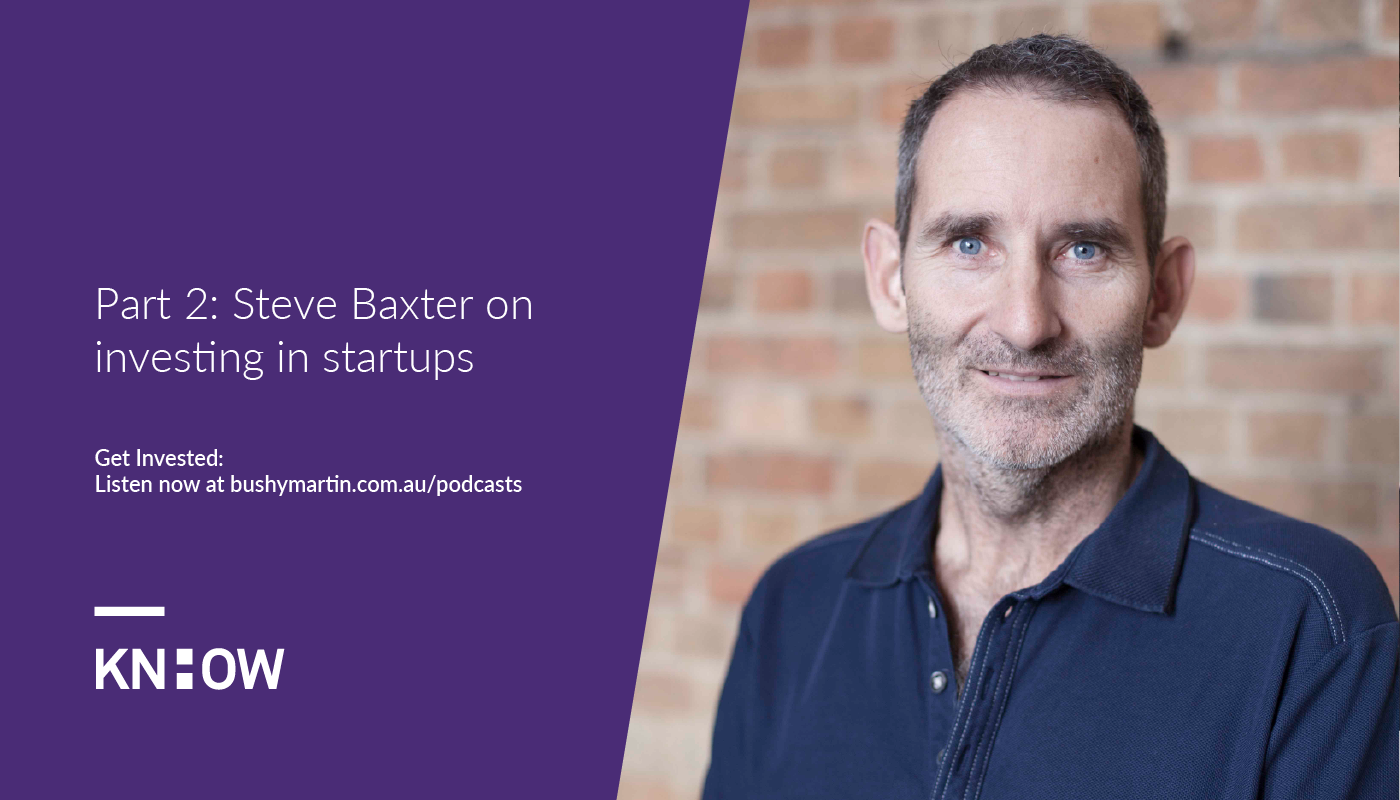 We're taking the journey into the brave new world of startups and startup investing, continuing the conversation with successful startup founder, tech startup investor and Shark Tank star Steve Baxter.
Listen to this episode now and subscribe via Apple Podcasts, Spotify, Google Podcasts or PlayerFM . 
Last week we delved into the entrepreneurial world as we followed Steve's own journey to startup success and what it takes to be a successful entrepreneur. 
This week we take this to the next level to consider what makes a successful startup and how you can go about evaluating and investing in them.
According to recent research, the failure rate for a venture fund portfolio is 40% to 50% in a given year, and 90% of all companies invested in will not make it beyond the 10 year mark. So the notion that only one in 10 venture capital investments will succeed is industry expectation. But the 10% of companies that do make it big can return many thousands of percent to investors.
Understandably, typical venture deals are structured over 10 years until exit. The ideal exit strategy is for the company to go public via an initial public offering (IPO), which can generate the out-sized returns expected from taking on such risk. Other exit strategies that are less desirable include being acquired by another company or remaining as a private, profitable venture.
So as an investment class, startups are an area of big risks with the slim probability of big rewards.
So how can investors be successful at the startup game? This is where Steve Baxter comes in.
As you already know if you listened to last episode's part 1 chat, Steve became a celebrity startup investor as a Shark on the popular TV Show Shark Tank following his personal startup founder success with PIPE Networks, which was acquired for a whopping $373 million.
Steve now runs TEN13, an investment syndicate platform for sophisticated investors to invest alongside him and the experienced Transition Level Investments team. Unlike many venture capitalists, Steve puts his own cash on the dash to the tune of an average of 15% to 20% of every seed deal.
Enjoy startup investing insights from one of the best in the business.
TEN13:
So If you're a sophisticated investor looking to diversify your portfolio and invest in top calibre technology companies, reach out to Steve and his high calibre TEN13 investment team who undertake exhaustive due diligence before they invest.
Get 'Self, Health and Wealth' wisdom in your inbox:
Join me and many other like minded investors in our Get Invested community right now. 
I send a free and exclusive monthly email full of practical 'Self, Health and Wealth' wisdom that our current Freedom Fighter subscribers can't wait to get each month. It's full of investment and lifestyle tips, my personal book recommendations, apps I use to enhance life and so much more. Just visit bushymartin.com.au and sign up at the bottom of the page … because this is just the beginning!
Listen to this episode now and subscribe via Apple Podcasts, Spotify, PlayerFM, search Google Podcasts or the player below. 
Get Invested is the leading weekly podcast for Australians who want to learn how to unlock their full 'self, health and wealth' potential.
Hosted by Bushy Martin, an award winning property investor, founder, author and media commentator who is recognised as one of Australia's most trusted experts in property, investment and lifestyle, Get Invested reveals the secrets of the high performers who invest for success in every aspect of their lives and the world around them.
Remember to subscribe on your favourite podcast player, and if you're enjoying the show please leave us a review.
Find out more about Get Invested here 
Want to connect with Bushy? Get in touch here

Podcast produced by Apiro