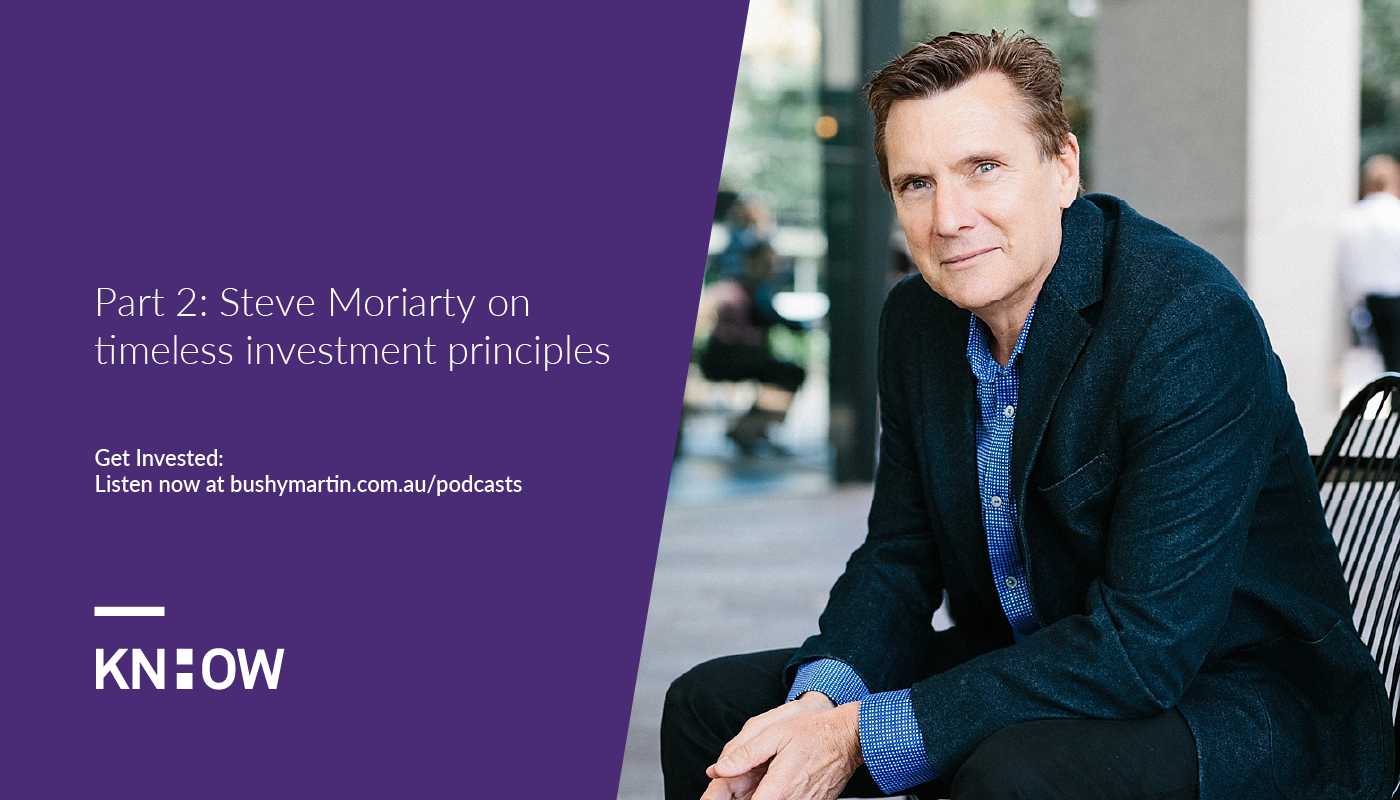 Steve Moriarty believes that anyone can be a successful investor. Picking up from our previous episode, Steve breaks down his eight timeless principles that anyone can apply to build their wealth safely.
Listen to this episode now and subscribe via Apple Podcasts, Spotify, Google Podcasts or PlayerFM . 
Steve walks the talk. For over 20 years, he has been a highly successful full-time private investor. He's the founder and Wealth Coach at Next Level Wealth, a podcast host, author and former political adviser. 
But as Steve repeatedly reiterates, your investment success all revolves around knowing yourself and your personality type so that you can then construct an investment style and systematic plan that plays to your strengths and protects yourself from your weaknesses and emotional limitations.
As already mentioned, To clearly identify your personality type, jump on www.truity.com or www.crystalknows.com to take their quick and easy free questionnaire to find out who you really are.
And as a special bonus for Get Invested listeners, once you've confirmed which of the personality types you fall into, you can email Steve directly at steve@gonextlevelwealth.com.au to get your free personality type investment roadmap that's tailored to your specific personality type.
Now Steve also talks about all of this in much more detail in his excellent book, Low Rates High Returns, so I highly recommend you grab yourself a copy as it's a really good and easy read and one of the best books I've read in years.
And if you like what you've heard and read, Next Level Wealth's uniquely tailored investment coaching program may be just what you've been looking for, so reach out to Steve at www.gonextlevelwealth.com.au to investigate it further. 
And if you're ready to take the bull by the horns and get started on your property investment journey, grab yourself a free copy of my award winning intro book Get Invested by jumping on https://bushymartin.com.au/books – you can get the ebook version at no cost. And if you like what you read then you can upgrade to the full Freedom Formula book that gives you the detailed keys on why, what and how you need to invest to achieve your ultimate lifestyle goals and get your precious time back.
Get 'Self, Health and Wealth' wisdom in your inbox:
Join me and many other like minded investors in our Get Invested community right now. 
I send a free and exclusive monthly email full of practical 'Self, Health and Wealth' wisdom that our current Freedom Fighter subscribers can't wait to get each month. It's full of investment and lifestyle tips, my personal book recommendations, apps I use to enhance life and so much more. Just sign up at the bottom of the page … because this is just the beginning!
Listen to this episode now and subscribe via Apple Podcasts, Spotify, PlayerFM, search Google Podcasts or the player below. 
Get Invested is the leading weekly podcast for Australians who want to learn how to unlock their full 'self, health and wealth' potential.
Hosted by Bushy Martin, an award winning property investor, founder, author and media commentator who is recognised as one of Australia's most trusted experts in property, investment and lifestyle, Get Invested reveals the secrets of the high performers who invest for success in every aspect of their lives and the world around them.
Remember to subscribe on your favourite podcast player, and if you're enjoying the show please leave us a review.
Find out more about Get Invested here 
Want to connect with Bushy? Get in touch here

Podcast produced by Apiro