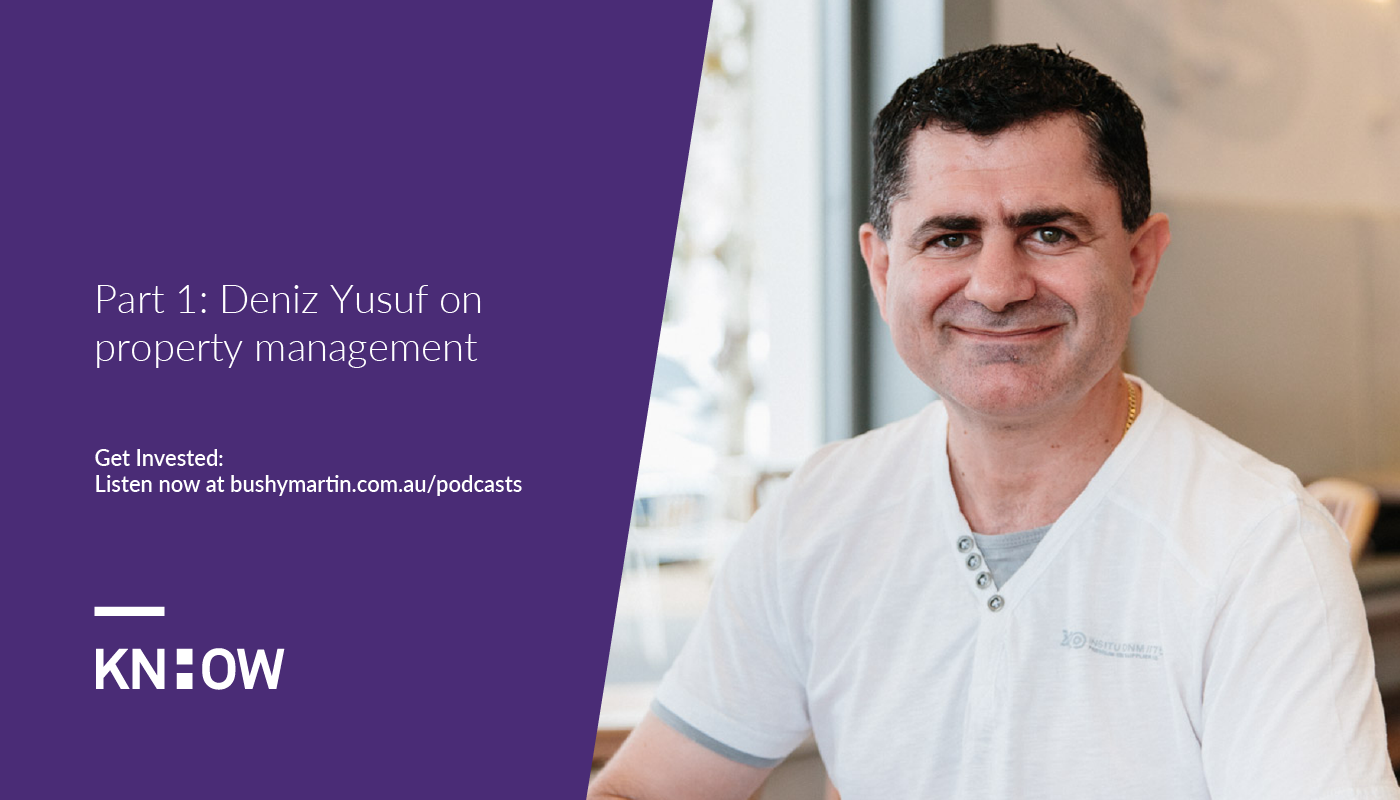 Building on our previous episode on property management, expert Deniz Yusuf joins us to talk about how investors can get control of, and optimise, their property management. 
Listen to this episode now and subscribe via Apple Podcasts, Spotify, Google Podcasts or PlayerFM . 
Building on our previous episode on property management, expert Deniz Yusuf joins us to talk about how investors can get control of, and optimise, their property management. 
If you tuned in last week you'll already appreciate how critical property management is to your success as a property investor.
But I don't want you to just take my word for it – it's more important that you hear it from an industry leading professional.
So this week we commence with Part 1 of a 2 part interview with Deniz Yusuf, a proven industry professional who has achieved great things himself and is now an inspirational property management trainer and coach through his Inspired Growth Training and BDM Coaching programs.
Deniz is an internationally recognised consultant who now coaches, trains, mentors and presents to property managers and agents across Australia, New Zealand and the United States.
And unlike many "experts" with a long academic pedigree, Deniz earned his stripes on the ground – his property management expertise was gained over years getting his hands dirty in the trenches of rental properties where he successfully listed 925 new property managements from an astonishing 1077 presentations in under four years, which is a staggering 86% strike rate, based on his advanced skills and unique approach.
Deniz now strives at assessing property management teams and finding the 'blockage' in an office that may be stopping them from achieving their goals. After it's fixed, it's then about continued consulting and mentoring so they can become the best in their field.
The impressive line-up of clients that Deniz has consulted with and presented to include the largest conferences in Australasia, including realestate.com.au, The McGrath Group, First National, LJ Hooker, Harcourts, the Real Estate Institutes of Victoria, Queensland, South Australia and Western Australia, as well as keynote presentations to leading property management forums in the United States and many more.
Deniz and his partners in crime, train well over 200 real estate offices globally through their Inspired Growth Training Inner Circle Membership platform.
His focus is now helping property management offices to grow their businesses by creating superior client experiences, and mentoring property managers to become market leaders in their area.
As you can hear, Deniz has a wealth of expertise and a proven track record in the challenging world of property management.
So in part 1 of our great discussion today, you'll get to enjoy Deniz's journey that has led him to become Australia's pre-eminent property management trainer, including:
How his early days as a fruito and vacuum cleaner salesmen along with his love of music has shaped his unique property management approach, so listen out for what he means when he says there are no emails in fruit.
He unpacks his astonishing ability to break records listing rentals and how he did it.
And he takes us through the trials and tribulations of his own property investment journey, including renovations, commercial property, SMSFs which you'll gain a heap of lessons from.
He also shares his best and worst investments and biggest mistakes along the way.
Enjoy part 1, and stay tuned for part 2.
Inspired Growth Training
And if you like what you hear and you want to find out more about Deniz and the IGT team, jump on inspiredgrowthtraining.com.   
Realty Talk
And if you want to hear more from Deniz along with all of Australia's leading property investors and independent professionals, join me and the other 120,000 plus regular listeners every week as I anchor host the country's most popular and longest running property show, Kevin Turner's Realty Talk, where we share short and sharp take home tips and tricks on all things property. And while you're there, make sure you don't miss an episode of Realty Talk by signing up, so you get every show and all of the leading property insights in your inbox, every week.
Deep dive meeting with Bushy
Or if you'd prefer an hour of power to talk with me personally on any questions, queries or issues you'd like to discuss about your investment strategy, finance or property portfolio delivery, just click here then select the 'Lets Zoom, DeepDive Meeting with Bushy' 1 hour option.
Join the Get Invested community:
And if you want to continue investing in your knowledge, join me and many other like minded investors in our Get Invested community right now.
I send a free and exclusive monthly email full of practical 'Self, Health and Wealth' wisdom that our current Freedom Fighter subscribers can't wait to get each month.
It's full of investment and lifestyle tips, my personal book recommendations, apps I use to enhance life and so much more. Just visit bushymartin.com.au and sign up at the bottom of the page … because this is just the beginning!
Listen to this episode now and subscribe via Apple Podcasts, Spotify, PlayerFM, search Google Podcasts or the player below. 
Get Invested is the leading weekly podcast for Australians who want to learn how to unlock their full 'self, health and wealth' potential.
Hosted by Bushy Martin, an award winning property investor, founder, author and media commentator who is recognised as one of Australia's most trusted experts in property, investment and lifestyle, Get Invested reveals the secrets of the high performers who invest for success in every aspect of their lives and the world around them.
Remember to subscribe on your favourite podcast player, and if you're enjoying the show please leave us a review.
Find out more about Get Invested here 
Want to connect with Bushy? Get in touch here

Podcast produced by Apiro