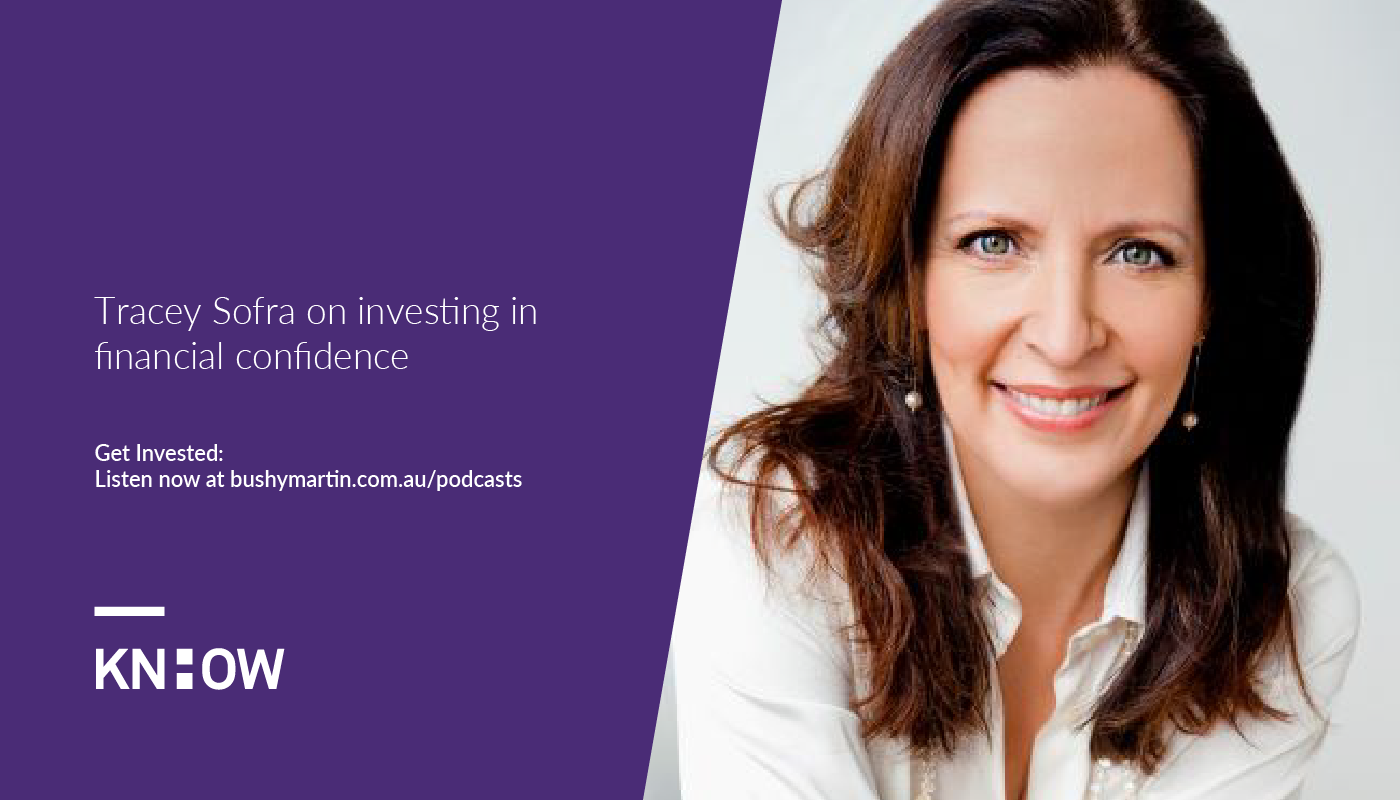 Top financial advisor Tracey Sofra talks about how to unlock financial confidence, and unlock financial freedom.
Listen to this episode now and subscribe via Apple Podcasts, Spotify, Google Podcasts or PlayerFM . 
What's your relationship with money? And what's your level of confidence with money?
Is it a friend or foe?
Unfortunately for many of us, money is more of an unknown and distrusted enemy and something that creates a lot of stress – now this may be because of your upbringing or your cultural and expected norms, or maybe you just didn't like maths and numbers at school, and because you associate money with maths, you've always felt alienated and fearful of it?
Your relationship with money has a major impact on your present and your future freedom and happiness  – in our western capitalist world, its both the oil and the fuel that powers and enables your choices.
So how can you improve and increase your financial confidence and relationship with money so that you can grow and nurture it to fuel your future?
This is where our special guest Tracey Sofra comes in.
Tracey is Australia's leading Financial Advisor specialising in Women's Financial Confidence. With over 30 years' experience as a Business Leader, Wealth Mentor, Award Winning Financial Advisor, Author and Keynote Speaker, Tracey has shared her proven method for shifting mindsets and the limits to financial success for thousands of women and men across Australia. 
And Tracey is dedicated to Investing in Women's Empowerment. As the founder and CEO of WOW Women, Tracey leads a community of like-minded business, professional and entrepreneurial women, working collectively to create change in their own financial life and the lives of other women across the globe.
Enjoy this enlightening discussion.
Financial Confidence Quiz:
To get you started on improving your financial confidence and relationship with money to find out exactly where you're at, as your first step to nurturing and growing your money mastery, feel free to take Tracey's financial confidence quiz which you can find at https://financialconfidencescorecard.com
Hour of power with Bushy:
If you'd like an hour of power to talk with me personally on any questions, queries or issues you'd like to discuss about your investment strategy, finance or property portfolio delivery, whether you're an aspiring investor or an experienced investor with a substantial property portfolio, just go here https://knowhowproperty.com.au/contact-us then click on the 'Lets Zoom, DeepDive Meeting with Bushy' 1 hour  option to book in your preferred time. For a small investment of just $295 you can ask me anything you want about property for a full 60 minutes. 
Listen to this episode now and subscribe via Apple Podcasts, Spotify, PlayerFM, search Google Podcasts or the player below. 
Get Invested is the leading weekly podcast for Australians who want to learn how to unlock their full 'self, health and wealth' potential.
Hosted by Bushy Martin, an award winning property investor, founder, author and media commentator who is recognised as one of Australia's most trusted experts in property, investment and lifestyle, Get Invested reveals the secrets of the high performers who invest for success in every aspect of their lives and the world around them.
Remember to subscribe on your favourite podcast player, and if you're enjoying the show please leave us a review.
Find out more about Get Invested here 
Want to connect with Bushy? Get in touch here

Podcast produced by Apiro