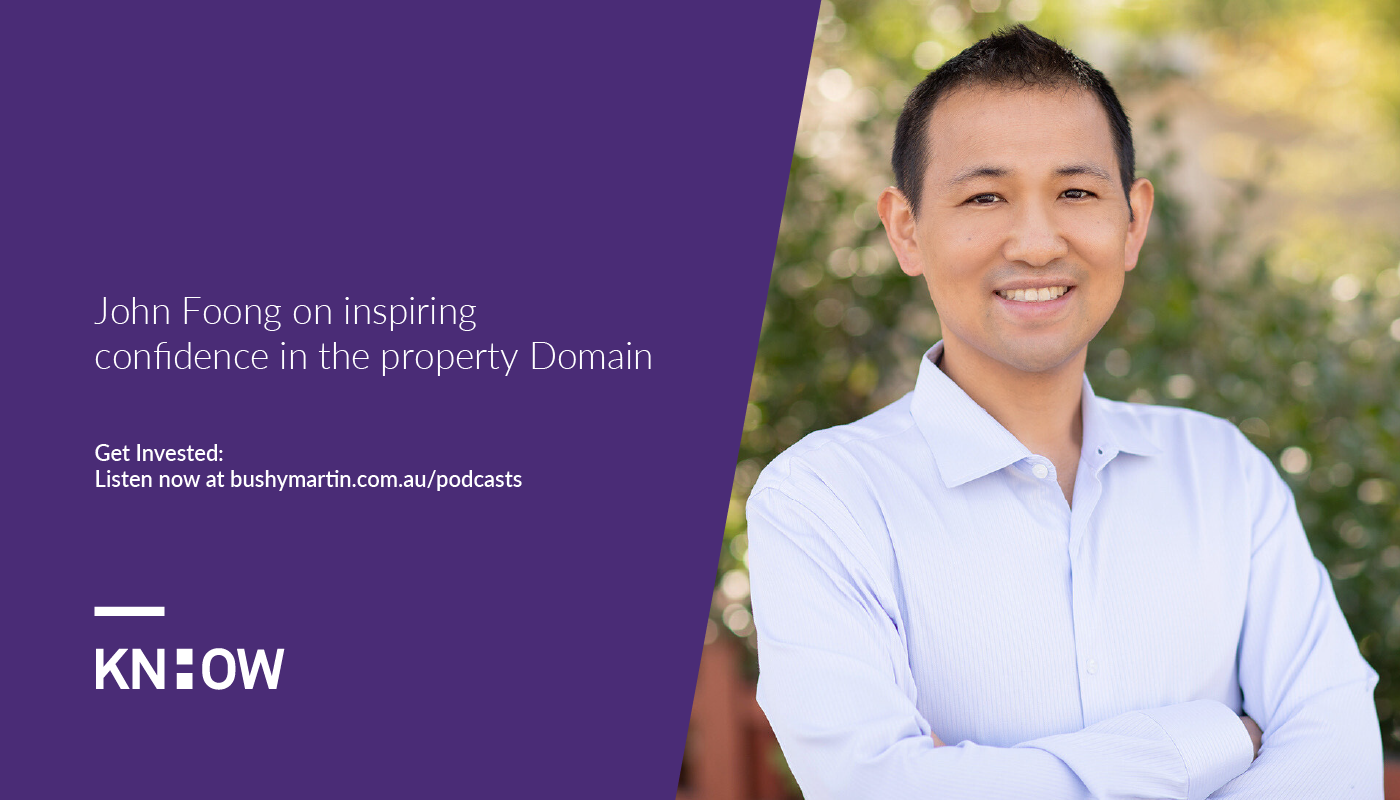 Technology and the digital world continues to change the way we engage with property. John Foong from Domain talks about what it means for you.
Listen to this episode now and subscribe via Apple Podcasts, Spotify, Google Podcasts or PlayerFM . 
Technology and the digital world continues to change the way we engage with property. John Foong from Domain talks about what it means for you.
It wasn't long ago when access to property information and resources was scant and real estate agents held all the cards. Now the tables have turned, we have the control and access to more information than we could ever need – some good, some bad!
How do we successfully navigate this new and ever improving world, where property business is now conducted anywhere at any time from the palm of your hand?
Where is property heading and what are the challenges and disruptive emerging innovations moving forward that will continue to transform our property experience?
At the crossroads of all of this is the Domain Group, where Domain is positioned as a leading property marketplace that aims to inspire confidence for all of life's property decisions, providing us with a suite of unique data, products, technology and insights to guide all of our property journeys.
And to give us a rare peek under the hood of this exciting and ever expanding world and where it's heading and what it means to you, we're joined by Domain's recently appointed Chief Revenue Officer, John Foong, who brings a wealth of leading global leadership and innovation to the world of Australian property.
John has come from a family of real estate investors – his parents are from Malaysia and Hong Kong, and when they came to Australia in the 1970s, they invested in property to pay for schooling when they had John and his sister, and found a niche in buying/flipping homes, specifically in NSW. This is where his passion for property started, and inspired him to start creating his own portfolio as soon as he had his first paycheck during University. 
He's Invested in a range of properties from apartments, retirement and family homes in tourist areas like Cairns, and has had great success with investments in places like Darwin and Perth. He spent the next 17 years away from Australia but continued to invest locally. When he moved to the US in 2013, he started shifting investments from Australia into Silicon Valley – mostly houses, but a combination of commercial (fast food chains) and syndicates (hotels). John has been with Domain since September 2021, returning to Australia for the opportunity.
Links for more information:
Website: www.domain.com.au
Linkedin: https://www.linkedin.com/in/johnfoong
Facebook: facebook.com/domain.com.au
Instagram: https://www.instagram.com/domain.com.au
Links to products/services: https://www.domain.com.au/advice/investing/
Hour of power with Bushy:
If you'd like an hour of power to talk with me personally on any questions, queries or issues you'd like to discuss about your investment strategy, finance or property portfolio delivery, whether you're an aspiring investor or an experienced investor with a substantial property portfolio, just go here https://knowhowproperty.com.au/contact-us then click on the 'Lets Zoom, DeepDive Meeting with Bushy' 1 hour  option to book in your preferred time. For a small investment of just $295 you can ask me anything you want about property for a full 60 minutes. 
For more quality investing insights, join the Get Invested community:
I send a free and exclusive monthly email full of practical 'Self, Health and Wealth' wisdom that our current Freedom Fighter subscribers can't wait to get each month.
It's full of investment and lifestyle tips, my personal book recommendations, apps I use to enhance life and so much more. Just sign up at the bottom of the page … because this is just the beginning!
Listen to this episode now and subscribe via Apple Podcasts, Spotify, PlayerFM, search Google Podcasts or the player below. 
Get Invested is the leading weekly podcast for Australians who want to learn how to unlock their full 'self, health and wealth' potential.
Hosted by Bushy Martin, an award winning property investor, founder, author and media commentator who is recognised as one of Australia's most trusted experts in property, investment and lifestyle, Get Invested reveals the secrets of the high performers who invest for success in every aspect of their lives and the world around them.
Remember to subscribe on your favourite podcast player, and if you're enjoying the show please leave us a review.
Find out more about Get Invested here 
Want to connect with Bushy? Get in touch here

Podcast produced by Apiro