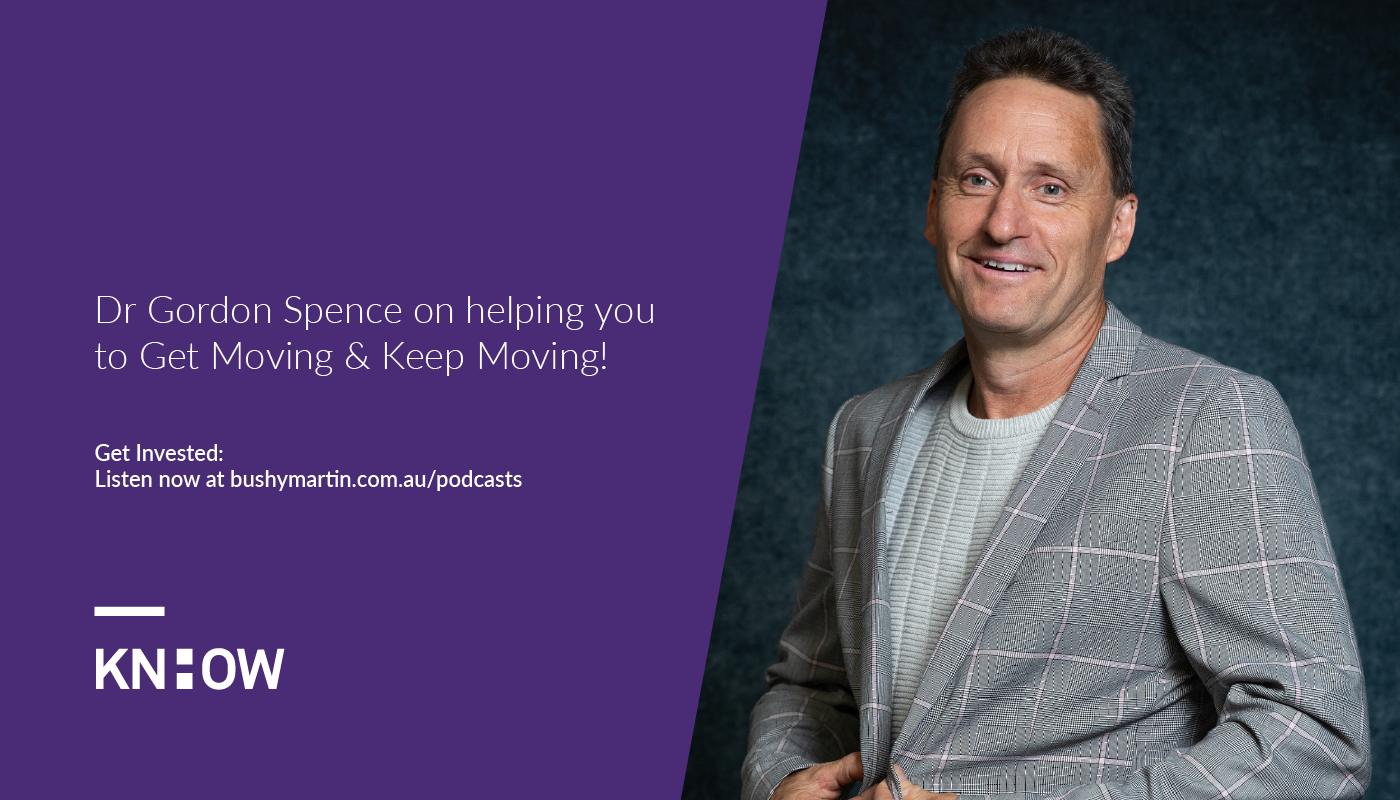 Want to live long and well, but feel like you're not fulfilling your health and ageing potential? Psychologist, exercise scientist and educator Dr Gordon Spence explains how to get on the right path. 
Listen to this episode now and subscribe via Apple Podcasts, Spotify, Google Podcasts or PlayerFM . 
If you're listening to this podcast, you're more than likely to be committed to personal growth and desire a long and prosperous life. 
But when it comes to health and ageing well, many of us feel stuck. No matter how successful you are financially, it doesn't mean much if your body is failing you and you lose years off your life. 
So how do you set yourself up for quality of life as you age, and get over the barriers you're facing today?
That's where our guest, Dr Gordon Spence, comes in. He's the author of 'Get Moving. Keep Moving.' He is a highly sought-after speaker, coach and educator who helps you to live well and perform well long term. A psychologist and exercise scientist, Gordon's areas of expertise include sustainable performance and healthy ageing, with a particular interest in helping you to return to exercise in mid-life.
 Enjoy this powerful discussion and invest in yourself!
Turn your life around with a copy of 'Get Moving, Keep Moving'
If you're serious about maintaining the quality of your life and enjoying sustainable active living you need to start today, so grab yourself a copy of Dr Gordon Spence's great book 'Get Moving, Keep Moving' at https://healthyageingproject.com/book – your future self with thank you for it!
Dr Gordon Spence's book recommendation:
Man's Search For Meaning by Viktor Frankl
Connect with Dr Gordon Spence:
Email: info@drgordonspence.com
Website: www.healthyageingproject.com
Hour of power with Bushy:
If you'd like an hour of power to talk with me personally on any questions, queries or issues you'd like to discuss about your investment strategy, finance or property portfolio delivery, whether you're an aspiring investor or an experienced investor with a substantial property portfolio, just go here https://knowhowproperty.com.au/contact-us then click on the 'Lets Zoom, DeepDive Meeting with Bushy' 1 hour  option to book in your preferred time. For a small investment of just $295 you can ask me anything you want about property for a full 60 minutes. 
For more free investment insights, join the Get Invested community:
If you want to continue investing in your knowledge, join me and many other like minded investors in our Get Invested community right now.
I send a free and exclusive monthly email full of practical 'Self, Health and Wealth' wisdom that our current Freedom Fighter subscribers can't wait to get each month.
It's full of investment and lifestyle tips, my personal book recommendations, apps I use to enhance life and so much more. Just visit bushymartin.com.au and sign up at the bottom of the page … because this is just the beginning!
Listen to this episode now and subscribe via Apple Podcasts, Spotify, PlayerFM, search Google Podcasts or the player below. 
Get Invested is the leading weekly podcast for Australians who want to learn how to unlock their full 'self, health and wealth' potential.
Hosted by Bushy Martin, an award winning property investor, founder, author and media commentator who is recognised as one of Australia's most trusted experts in property, investment and lifestyle, Get Invested reveals the secrets of the high performers who invest for success in every aspect of their lives and the world around them.
Remember to subscribe on your favourite podcast player, and if you're enjoying the show please leave us a review.
Find out more about Get Invested here 
Want to connect with Bushy? Get in touch here

Podcast produced by Apiro