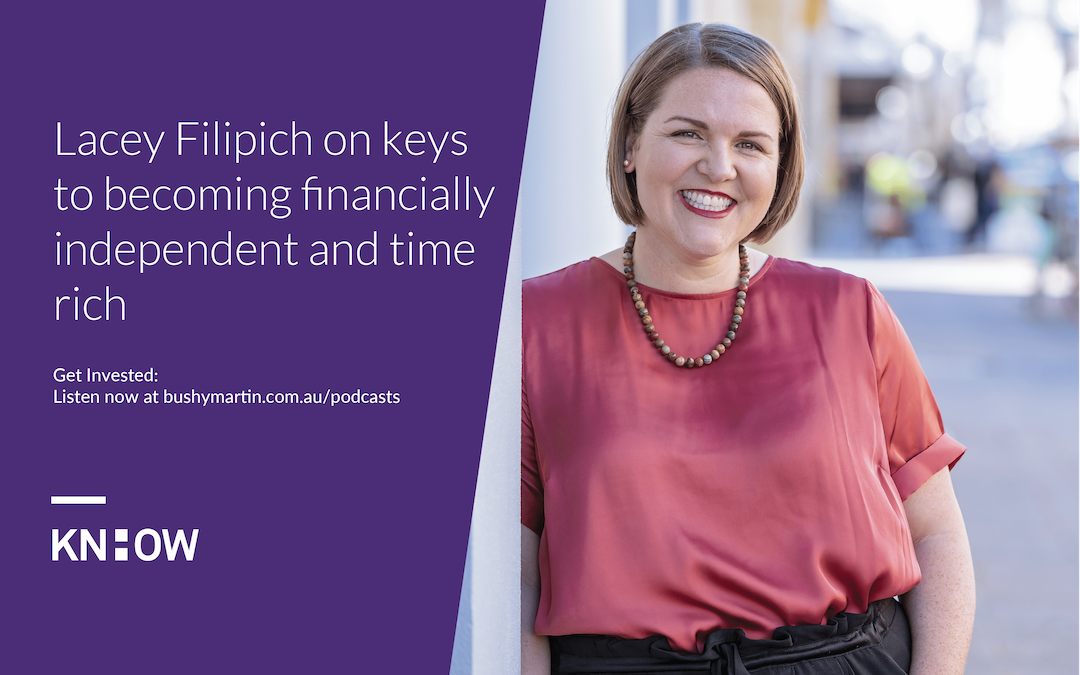 For Lacey Filipich, being time rich means choosing how you spend the seconds, minutes, hours and days that make up your life so you choose how and where you spend your time.
And she helps you to achieve financial independence by mastering money – through saving, buying assets and eliminating bad debt.
She believes financial independence is achievable for anyone with an income and a long enough timeline.
Lacey is well known for translating financial concepts into plain english and breaking down what seems complex into simple, straightforward steps.

Her approach to personal finance focuses on EDUCATION, not prescription.
She firmly believes that by helping you with some knowledge, you can make all the financial decisions you need to help yourself.

And she wants you to choose your own financial adventure, not follow a recipe.

She knows that a one-size-fits-all advice doesn't work, as she knows that there's more than one way to skin the financial independence cat.

Lacey also knows that it is never too late to improve your financial situation.

And the younger you start, the better – because the magic of compounding returns has more time to take effect.

And interestingly, she's not a financial advisor or planner. She's a chemical engineer who couldn't accept the financial education gap any more, and so launched her businesses to help you fix the problem for yourself and your kids.
Everything she does today – including speaking in women's prisons, teaching kids to start businesses, volunteering with groups like Women in Technology WA, and writing books – is about helping you become financially capable so you too can become time rich.
Lacey's motto is that money is about choice. The more money you have, the more choices you have.
So if you're looking for help in managing your money and investing in your future so you can start developing the self control required to enjoy the fruits of delayed gratification, grab yourself a copy of her book Money School or do one of her online courses on achieving financial independence, raising financially savvy children or becoming debt free now – all of which you can access via her website www.moneyschool.org.au 
In the meantime, enjoy this energetic and enjoyable chat with Lacey Filipich.
Listen to this episode now and subscribe via Apple Podcasts, Spotify, PlayerFM, search Google Podcasts or the player below. 
Get Invested is the podcast dedicated to time poor professionals who want to work less and live more. Join Bushy Martin, one of Australia's top 10 property specialists, as he and his influential guests share know-how on the ways investing in property can unlock the life you always dreamed about and secure your financial future.
Remember to subscribe on your favourite podcast player, and if you're enjoying the show please leave us a review.
Find out more about Get Invested here 
Want to connect with Bushy? Get in touch here

Podcast produced by Apiro