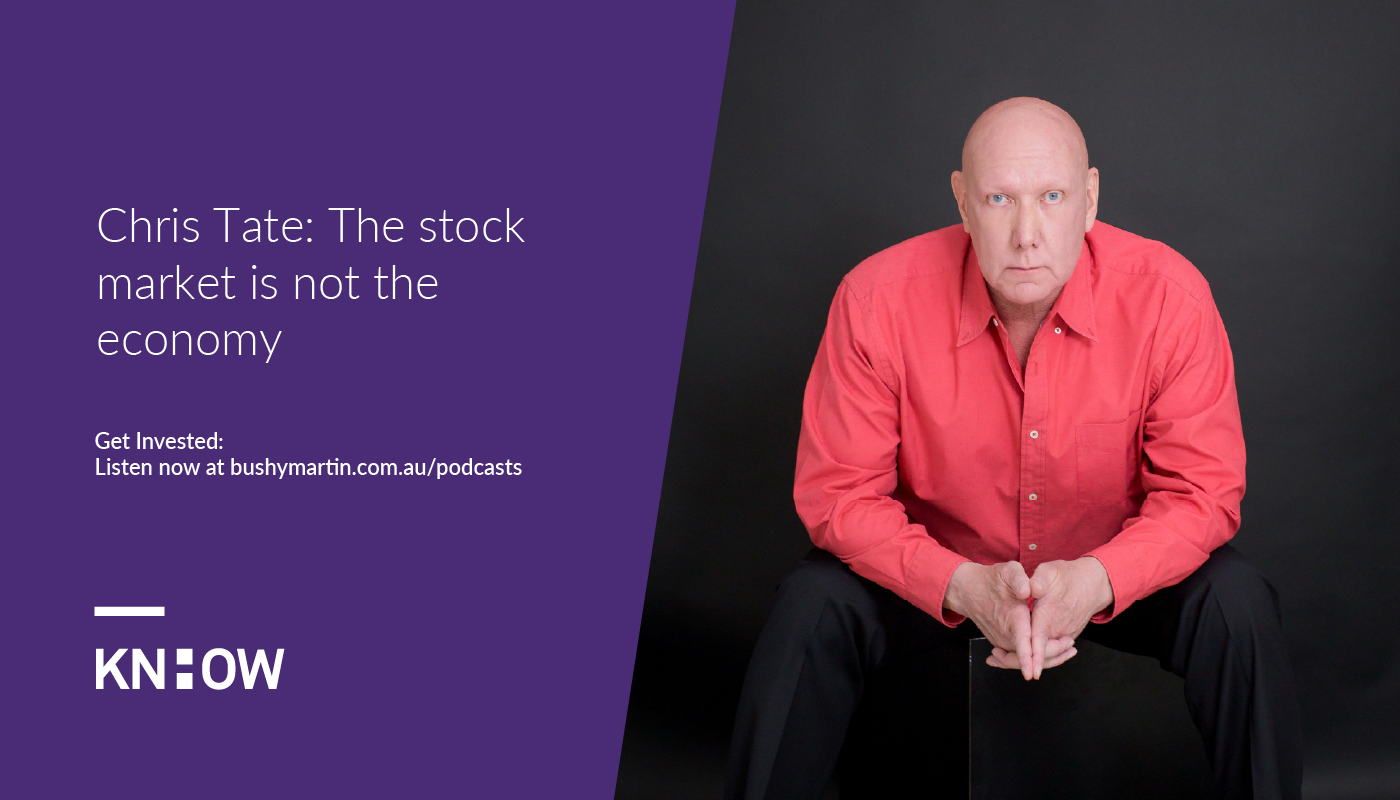 On Get Invested, we continue our reflective and projective Summer Series with a parallel look at the future through the lens of the financial markets with trading veteran Chris Tate of 'The Trading Game' fame and the Talking Trading podcast.
Listen to this episode now and subscribe via Apple Podcasts, Spotify, PlayerFM, search Google Podcasts. 
Investing by developing a profitable personalised trading system that suits you and prevailing market conditions is where Chris can really help you.
Chris is considered to be a freaky trading genius by all of his trading peers. He's a trading veteran of over 30 years, one of the first people ever to release a share trading book in Australia and the bestselling author of The Art of Trading and The Art of Options Trading in Australia – you can enjoy his full story and investment philosophy on Get Invested episode 115 if you haven't enjoyed it already.
Chris is caustically funny, brutally honest and capable of making your jaw drop with his insights – he's one of the few people who truly understand what does and doesn't work in the markets and he always has me in fits of laughter.
Now if you really want to learn how to invest and trade properly to take advantage of the upcoming financial market opportunities, then start by joining Chris & Louise Bedford on their Talking Trading podcast.
And if you move quickly, you can still get in on their next upcoming six month, repeat-for-free forever Trading Game Mentor Program where you'll learn how to trade every instrument, over every time frame based on a trading plan that suits you. It's the LONGEST RUNNING REPEAT-FOR-FREE TRADING MENTOR PROGRAM IN THE WORLD so just jump on this link to secure your spot. 
Make sure you let them know that Bushy suggested you reach out so you enjoy the advantage of some exclusive bonuses. 
And by the way, there are no brown paper bags full of money exchanging hands here or any form of personal reward for mentioning it – only the personal satisfaction of helping you and others as I'm only recommending them based on the quality of what they do and the very positive feedback I've received from other investors I know who have joined them.
To further whet your appetite on the great topics Chris and I banter on today, we cover:
Why markets across the board, from global and local shares,




right through to gold and crypto, have done so well despite the global health and resultant economic challenges

Why there's such a stark disconnect between record highs in the markets and the underlying economy which has been compared to the Great Depression of the 1930's? 

Why there's been such a massive increase in online and first time share investors? 

We comment on the madness of The US Election and its implications?

We enjoy Chris' read on our trade machinations with China and what if any impact will it have on the investment markets

We discuss gold and investing in cryptocurrency

And we cover off on whether there are any immediate investor risks that may impact on the markets
Enjoy!
Listen to this episode now and subscribe via Apple Podcasts, Spotify, PlayerFM, search Google Podcasts or the player below. 
Get Invested is the podcast dedicated to time poor professionals who want to work less and live more. Join Bushy Martin, one of Australia's top 10 property specialists, as he and his influential guests share know-how on the ways investing in property can unlock the life you always dreamed about and secure your financial future.
Remember to subscribe on your favourite podcast player, and if you're enjoying the show please leave us a review.
Find out more about Get Invested here 
Want to connect with Bushy? Get in touch here

Podcast produced by Apiro