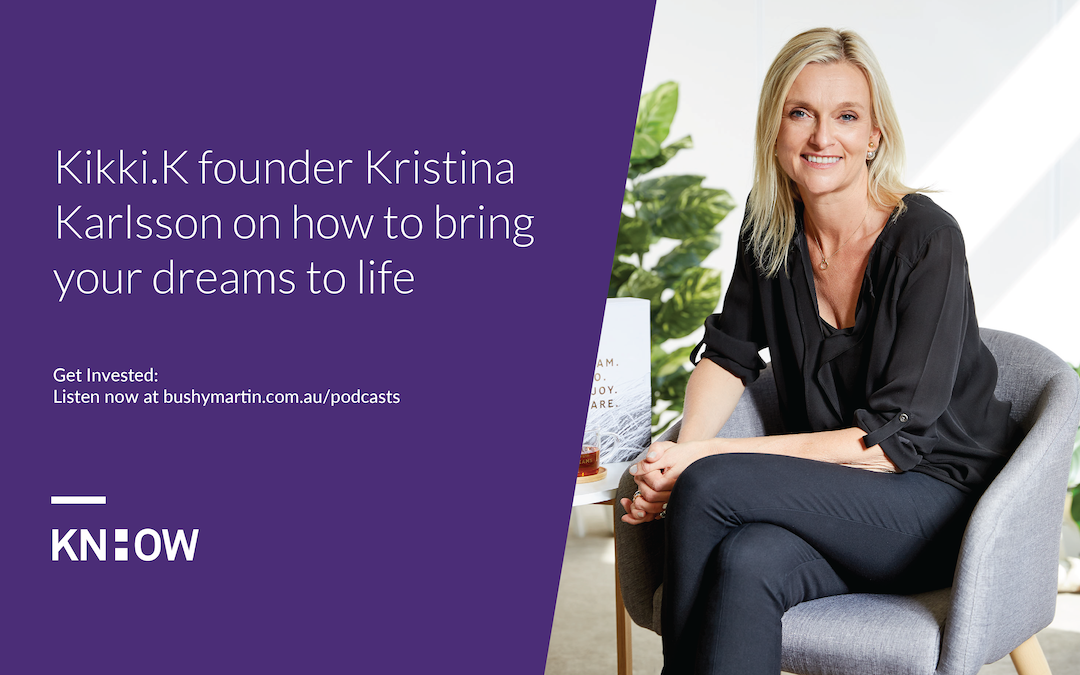 It is time to dust off your dreams – to dream big without laws or limits – because dreams re-energise our passion and our purpose.
But if you've been feeling stuck, how do you start to dream again? This is where our very special guest comes in.
Kristina Karlsson is the dream queen.
She's the Founder and Creative Director of Kikki.K, a global chain of beautifully designed dream machines to help you capture your dreams and make them happen.
In exquisite Swedish style she has created dream stationery in dream environments that help you to create dream experiences.
She has created beautifully designed tools that help you to start to dream with your eyes open, and then to turn those dreams into reality with daily do's and disciplines.
Kikki.K stationary can be found in over 2,000 stores in over 147 countries – it is easy to get lost in Kristina's stores for hours basking in the inspiration.
Kristina refers to herself as a dreamer, a passionate learner, a self-improver and the proud mother of two children, Axel and Tiffany, with her partner, Paul.
After growing up on a small farm in country Sweden, at 22 she found herself in a new country, half a world away from family and friends, with little money and no idea what to do with her life.
So what did she do? She Imagined what her dream life could look like – she wrote it down and then set about making it happen.
With deep personal experience of the power of dreaming and then doing, Kristina is on a world-wide mission to encourage you to create and follow your dreams.
Kristina knows the power of dreaming – And she has a big crazy dream to inspire and empower 101 million people around the world to create, write down and start actualising dreams of their own.
And her recent book – Your Dream Life Starts Here – which you can get on her website kikki-k.com/dreamlife or online at any good bookstore – gives you the power to dream and do.
To get you started, I challenge you to email me at bushy@khgroup.com.au with your three dreams and we'll reward the most inspiring dream with a complimentary copy of my book Get Invested.
Kristina Karlsson is the star attraction at the Wake Up Adelaide conference at the Adelaide Convention Centre on 21 and 22 November 2019, so if you're inspired after listening to today's episode, grab a ticket to hear her living the dream secrets at wakeupadelaide.com right now.
Listen to this episode now and subscribe via Apple Podcasts, Spotify, PlayerFM, search Google Podcasts or the player below. 
Get Invested is the podcast dedicated to time poor professionals who want to work less and live more. Join Bushy Martin, one of Australia's top 10 property specialists, as he and his influential guests share know-how on the ways investing in property can unlock the life you always dreamed about and secure your financial future.
Remember to subscribe on your favourite podcast player, and if you're enjoying the show please leave us a review.
Find out more about Get Invested here 
Want to connect with Bushy? Get in touch here

Podcast produced by Apiro