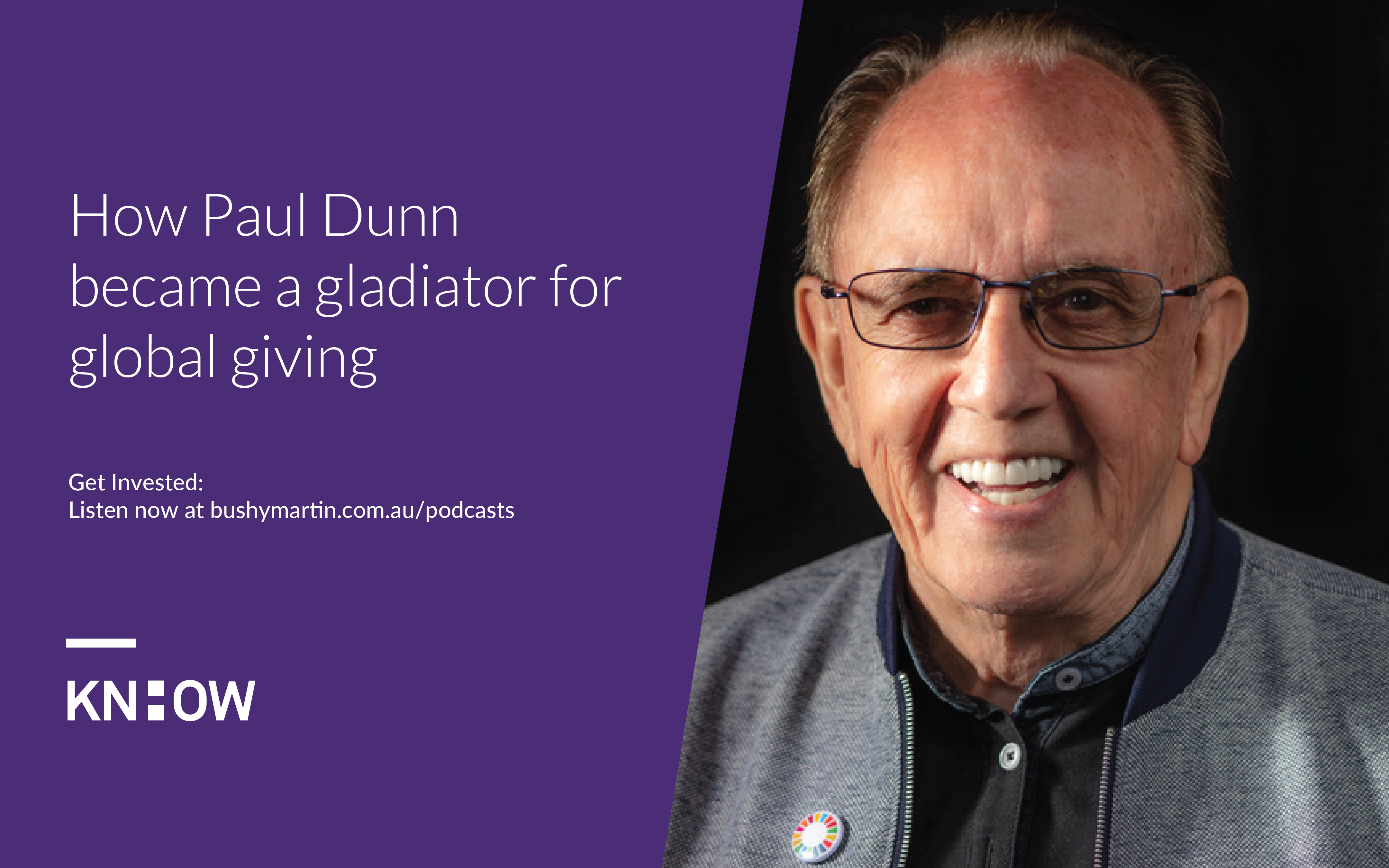 Paul Dunn is a gladiator for global giving. His good vibes and infectious energy is immediately invigorating – just listening to his words of wisdom inspires you to be better and to do better.
Listening to him you will find it hard to believe he is in his late 70s – he's a walking talking advert for the life giving benefits of generosity.
And his commitment to creating a kinder generous world is built on a lifetime of personal and business success. How's this for a track record:
Paul's a four-time TEDx speaker. He is a Senior Fellow in one of the world's leading Think Tanks and consults to and mentors leading-edge businesses around the world.
He was honoured as a Social Innovation Fellow in his new home of Singapore, something he shares with film-star and philanthropist Jet Li and Walmart Chairman, Rob Walton.
He was one of the first 10 people hired for Hewlett Packard in Australia. He then created one of Australia's first computer companies and then The Results Corporation, where he helped develop and grow 23,000 small and medium scale business enterprises.
Some 17,700 Accountants came through his breakthrough program for Accountants — the Accountants' Boot Camp.
His training programs are used by an estimated 226,000 companies around the world and he continues to push the boundaries.
He featured in Forbes Magazine alongside Sir Richard Branson in a global piece on 'disrupters' in business.
He's often called the Wizard of WOW because every conversation he has changes lives.
He travels close to 800,000 miles each year speaking around the world and spreading his global giving message … and apparently his baggage travels twice as far.
And all of this has led to his current Chairmanship of B1G1: where he's already enabled businesses to create nearly 200 Million giving impacts globally.
And in the spirit of giving, I'm also going to challenge you to take an action today that will also contribute to making the world a better place through B1G1.
At one point during today's episode I ask you to email me at bushy@khgroup.com.au with a specific subject header, so listen out for it – everyone who emails me with the correct heading will receive a copy of my book Get Invested and our business Know How will donate 100 days of life-giving clean water to those less fortunate in Ethiopia, so hit me with it and I'd love to see my email go into melt down!
Today's chat with Paul is one of the most enjoyable and immediately invigorating conversations I've ever had, and I know you will too.
Listen to this episode now and subscribe via Apple Podcasts, Spotify, PlayerFM, search Google Podcasts or the player below. 
Get Invested is the podcast dedicated to time poor professionals who want to work less and live more. Join Bushy Martin, one of Australia's top 10 property specialists, as he and his influential guests share know-how on the ways investing in property can unlock the life you always dreamed about and secure your financial future.
Remember to subscribe on your favourite podcast player, and if you're enjoying the show please leave us a review.
Find out more about Get Invested here 
Want to connect with Bushy? Get in touch here

Podcast produced by Apiro