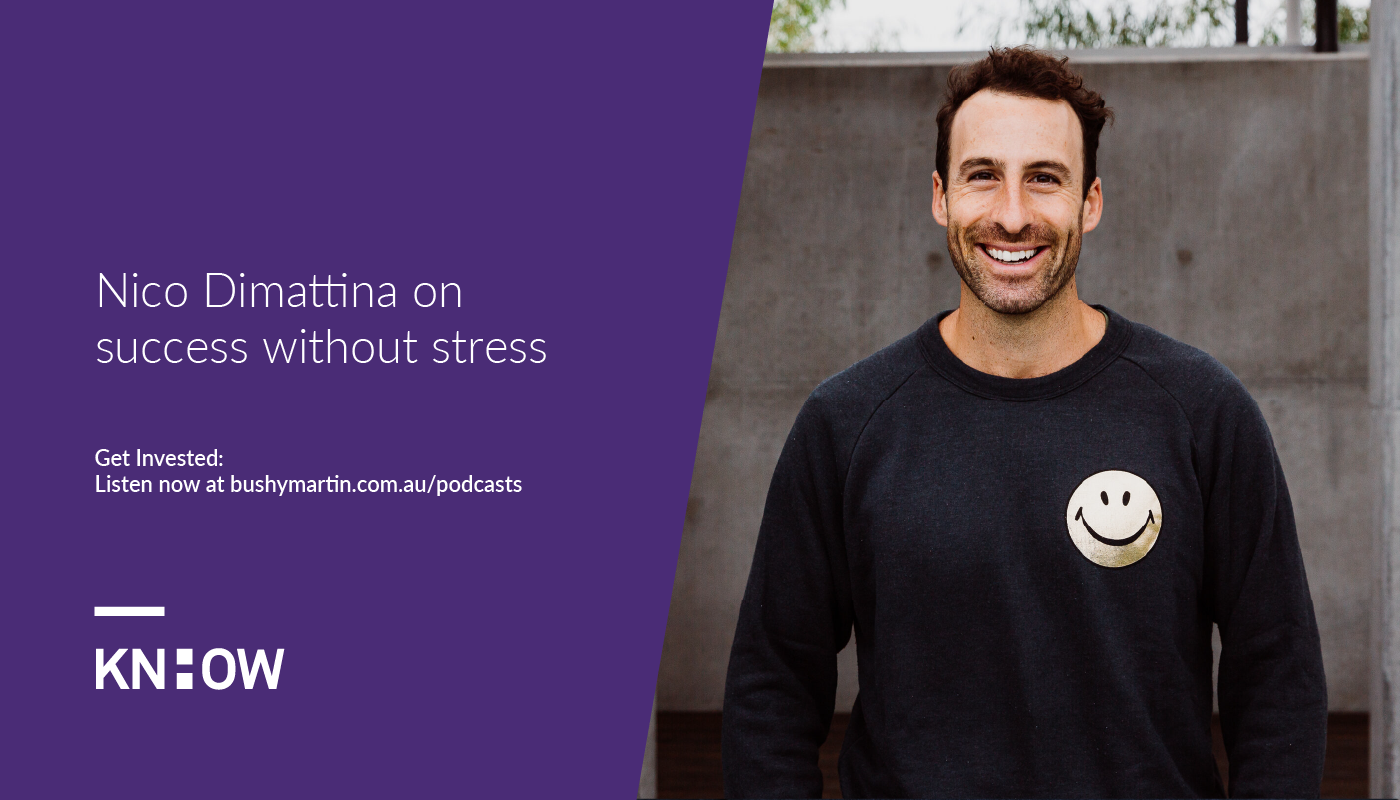 How can meditation unlock the thinking, believing, attitudes and expectations that lead to success?
Listen to this episode now and subscribe via Apple Podcasts, Spotify, Google Podcasts or PlayerFM . 
Nico DiMattina is an inspirational meditation teacher, a self-mastery coach, corporate wellness facilitator as well as an Ecstatic Dance DJ. And he's currently enjoying life in the coastal paradise of Byron Bay.
And as you'll hear in our energising chat, this is a far cry from his previous life, firstly as an elite athlete from an AFL family then as a Silicon Valley headhunter, where he helped find the brightest minds for tech giants Google, Pandora and Coinbase while living in the constant never ending hustle and bustle of New York City, San Francisco and Los Angeles in the US.
But despite seemingly riding high, Nico says he was unfulfilled. And it was that discontent that would lead him to develop a Transcendental Meditation practice that would become his daily source of strength and inspiration.
Now a meditation teacher and coach, Nico also co-founded Rise Ecstatic Disco, an uplifting sober dance party that incorporates cacao, movement, and meditation to help you connect to yourself, each other and nature – I can't wait to do this with him soon.
Ultimately, it's Nico's mission to empower you and I to build our own daily meditation and joy practices in order to feel more connected to realising our full potential.
So in this uplifting and eye opening discussion, Nico and I talk about:
Why TM meditation is so fundamental to your health and wellbeing
Where you need to start with meditation and what steps to take
How you can make meditation a daily practice
He uncovers the power of meditation to help you live your best life
We dive into The Golden Sequence and 4 Pillars that will help you find your own definition of success and fulfilment through self-mastery
And much more.
You can find out more about Nico's mediation courses, programs and other information at nicodimattina.com.
So I challenge you to join me on his next Being Meditation Technique course where we'll develop the foundational 'Self' side of the 'Self, Health, Wealth' triangle.
Freedom Flight for property investors:
And if you want to do more in your wealth side and learn about the property investor's mindset … Join me as I take new and experienced investors to new heights with my unique KnowHow Property Freedom Flight program, where I'll guide you through my proven process for property investment success.
To book your ticket or to find out more, just click here.
Listen to this episode now and subscribe via Apple Podcasts, Spotify, PlayerFM, search Google Podcasts or the player below. 
Get Invested is the leading weekly podcast for Australians who want to learn how to unlock their full 'self, health and wealth' potential.
Hosted by Bushy Martin, an award winning property investor, founder, author and media commentator who is recognised as one of Australia's most trusted experts in property, investment and lifestyle, Get Invested reveals the secrets of the high performers who invest for success in every aspect of their lives and the world around them.
Remember to subscribe on your favourite podcast player, and if you're enjoying the show please leave us a review.
Find out more about Get Invested here 
Want to connect with Bushy? Get in touch here

Podcast produced by Apiro