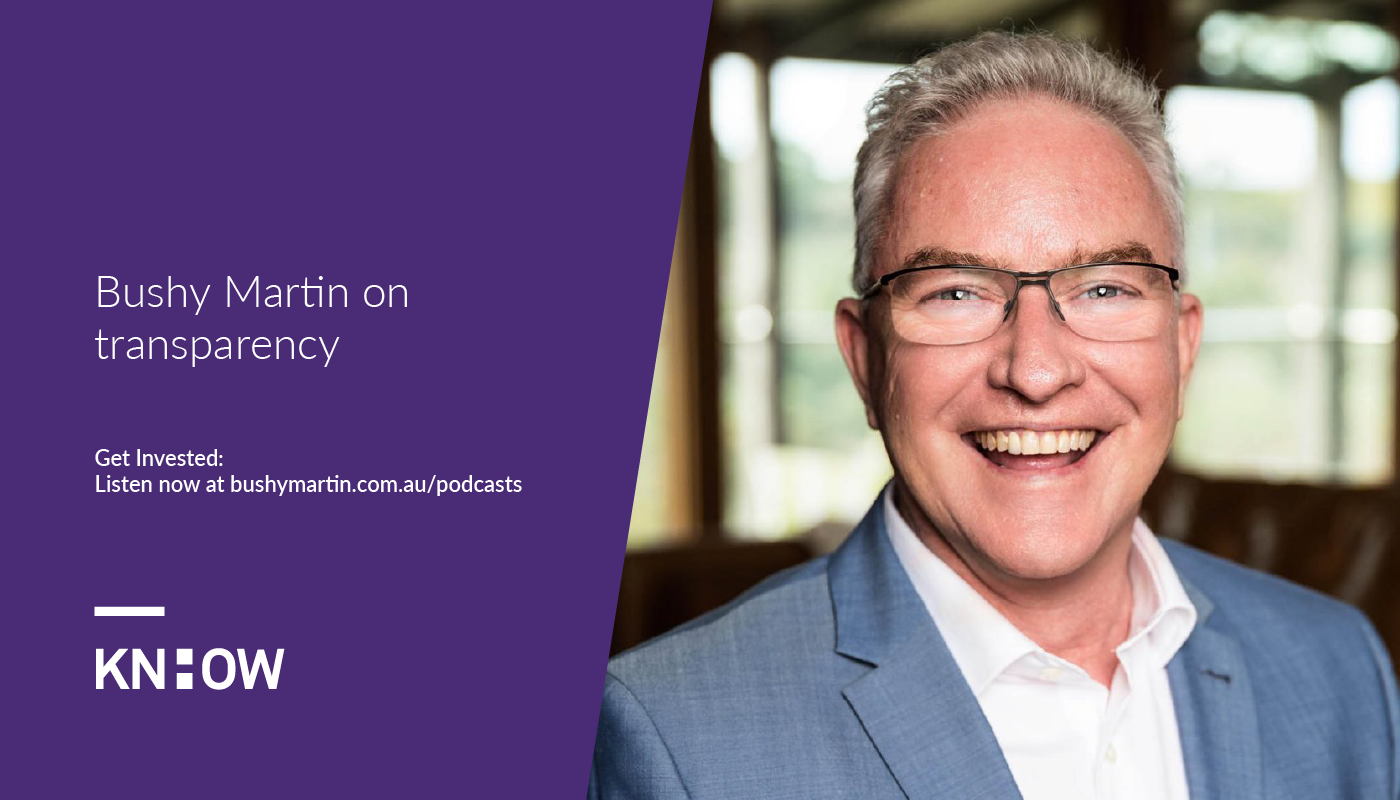 In this episode, Bushy Martin talks about the importance of transparency, in property dealings, business and life. 
Listen to this episode now and subscribe via Apple Podcasts, Spotify, Google Podcasts or PlayerFM . 
The Business Dictionary defines transparency as a "lack of hidden agendas or conditions, accompanied by the availability of full information required of collaboration, cooperation, and collective decision making."
In other words, as Maggie Campbell explained in an article about transparency, you need to 'say what you mean, mean what you say, and do what you say you'll do'.
This sounds simple, but in practice it proves much more difficult. People and organisations often struggle with consistently following through
on all three elements of this transparency equation.
For me, I would go further to say that transparency is not about providing all of the information, as this would bury people in endless complexity and confusion, but its about providing enough of the right information for another party to make good and fully informed decisions.
Hear more about transparency, and how it can transform your world, in this episode … and stay tuned for the upcoming interview with Scott Aggett.
Hello Haus:
If you want to get Scott Aggett and his team to assist you in negotiating the best outcome on your next property purchase, reach out to him at www.hellohaus.co
Realty Talk:
If you like what you hear from Scott in our 2 part special in this week's and next week's episodes, then make sure you have a listen to my interviews with Scott on Realty Talk
which you can see on https://channels.realty.com.au/realtytalk/, where Scott reveals his tricks to find properties pre and off market at zero cost that allow you to see 40% more of the market.
Join the Get Invested community:
And if you want to continue investing in your knowledge, join me and many other like minded investors in our Get Invested community right now.
I send a free and exclusive monthly email full of practical 'Self, Health and Wealth' wisdom that our current Freedom Fighter subscribers can't wait to get each month.
It's full of investment and lifestyle tips, my personal book recommendations, apps I use to enhance life and so much more. Just visit bushymartin.com.au and sign up at the bottom of the page … because this is just the beginning!
Listen to this episode now and subscribe via Apple Podcasts, Spotify, PlayerFM, search Google Podcasts or the player below. 
Get Invested is the leading weekly podcast for Australians who want to learn how to unlock their full 'self, health and wealth' potential.
Hosted by Bushy Martin, an award winning property investor, founder, author and media commentator who is recognised as one of Australia's most trusted experts in property, investment and lifestyle, Get Invested reveals the secrets of the high performers who invest for success in every aspect of their lives and the world around them.
Remember to subscribe on your favourite podcast player, and if you're enjoying the show please leave us a review.
Find out more about Get Invested here 
Want to connect with Bushy? Get in touch here

Podcast produced by Apiro