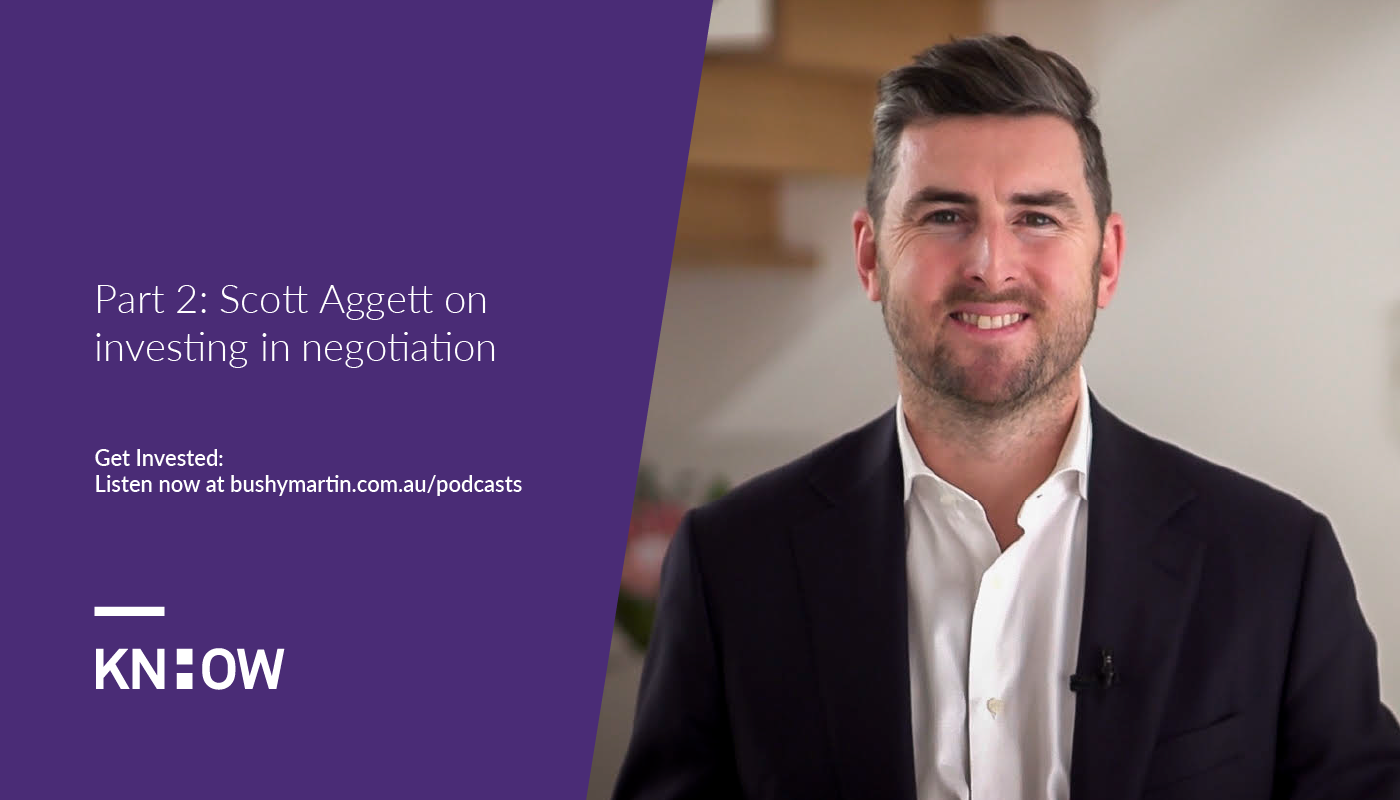 The conversation with property negotiator Scott Aggett continues, focusing on how negotiation can help you navigate a hot property market.
Listen to this episode now and subscribe via Apple Podcasts, Spotify, Google Podcasts or PlayerFM . 
Given the limited supply of properties compared to the massive current demand, finding good quality properties and then being able to outsmart the competing hordes to get the property, many of whom are still prepared to pay way beyond expectations, is proving to be slow painstaking, stressful and very frustrating hard work.
So how do you separate yourself from the FOMO buying pack? How do you successfully outsmart your competition and level the playing field with sellers agents to find, negotiate and secure a property in hyper competitive conditions?
How can you position yourself to ensure that your offer is more appealing to the selling agent and property seller than anyone else?
What should and shouldn't you be doing to best position yourself in these highly contested conditions?
If you've already listened to part 1 of Scott Aggett's conversation on last week's episode along with his inspiration for my separate deep dives on transparency and the power of silence in negotiation as part of the new and improved Get Invested format, then I know you'll be bursting at the seams to enjoy today's concluding segment that will help you answer these vexing questions.
So during our ear opening chat, Scott reveals the strategies, tactics and tricks that selling agents use to put buyers at a disadvantage as well as how you can notice and avoid them.
He shows you how you can build rapport with selling agents in order to glean as much info as possible. Along with what questions you do and don't ask a selling agent.
We talk about what information you shouldn't be telling selling agents.
Scott covers the other negotiation points a buyer can use to get their offer to stand out and be more appealing to both the agent and the selling vendor.
He also covers the best negotiation approach for the different methods of sale, including private treaty, auction strategies and the popular best offer buy approach, together with a stack of other negotiation gold.
Hello Haus:
If you want to get Scott Aggett and his team to assist you in negotiating the best outcome on your next property purchase, reach out to him at www.hellohaus.co
Realty Talk:
If you like what you hear from Scott in our 2 part special in this week's and next week's episodes, then make sure you have a listen to my interviews with Scott on Realty Talk
which you can see on https://channels.realty.com.au/realtytalk/, where Scott reveals his tricks to find properties pre and off market at zero cost that allow you to see 40% more of the market.
Join the Get Invested community:
And if you want to continue investing in your knowledge, join me and many other like minded investors in our Get Invested community right now.
I send a free and exclusive monthly email full of practical 'Self, Health and Wealth' wisdom that our current Freedom Fighter subscribers can't wait to get each month.
It's full of investment and lifestyle tips, my personal book recommendations, apps I use to enhance life and so much more. Just visit bushymartin.com.au and sign up at the bottom of the page … because this is just the beginning!
Listen to this episode now and subscribe via Apple Podcasts, Spotify, PlayerFM, search Google Podcasts or the player below. 
Get Invested is the leading weekly podcast for Australians who want to learn how to unlock their full 'self, health and wealth' potential.
Hosted by Bushy Martin, an award winning property investor, founder, author and media commentator who is recognised as one of Australia's most trusted experts in property, investment and lifestyle, Get Invested reveals the secrets of the high performers who invest for success in every aspect of their lives and the world around them.
Remember to subscribe on your favourite podcast player, and if you're enjoying the show please leave us a review.
Find out more about Get Invested here 
Want to connect with Bushy? Get in touch here

Podcast produced by Apiro