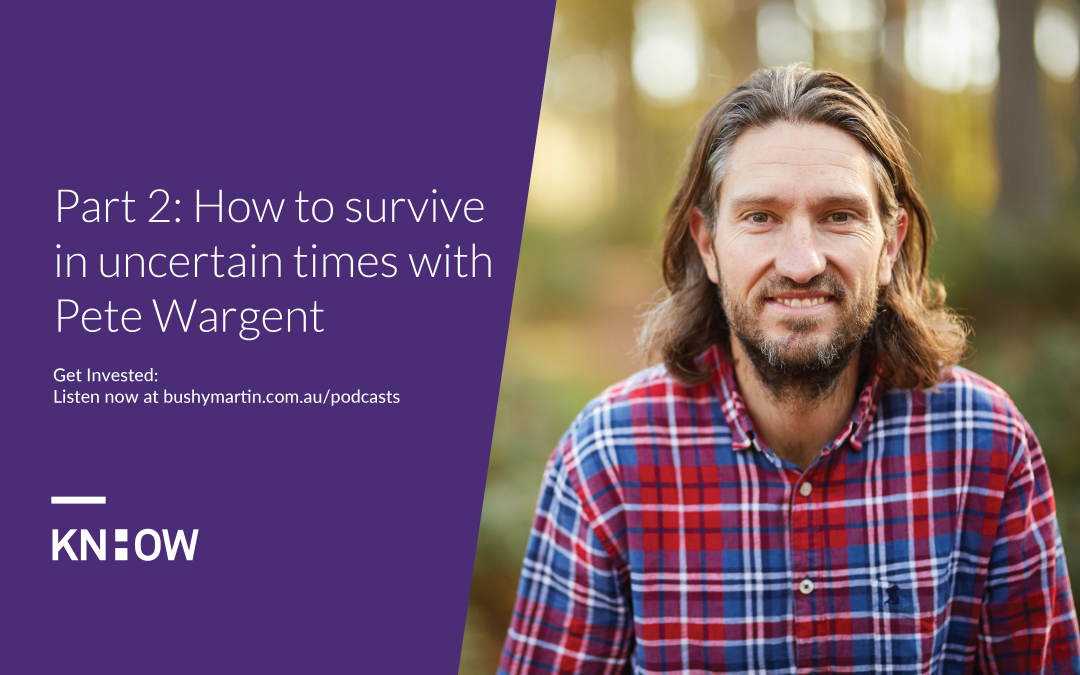 Today we continue to help you survive and thrive in uncertain times, giving you informed independent information to reduce the unknowns and your fears by answering all of your key questions, including:
– What is the reality of the responses to COVID19 on our current situation?
– How are things likely to roll out in the short, medium and long term as far as impacts on the economy, business, property, equities markets and our lifestyles is concerned?
– What will it mean for:
– Investors
– Home Owners
– Renters
– Buyers
– Sellers
– What should you do? 
– What shouldn't you do? 
– Where are the opportunities? How can you take advantage of them?
– And ultimately, how are you going to survive long enough to thrive?
And the best way to understand exactly what is going on is to turn to the best available reliable trusted and independent source who walks his own talk. He's arguably the best and most qualified person in Australia to do this, and a previous Get Invested guest, Pete Wargent. 
If you want to hear his full back story have a listen to episode 50. For those of you who haven't heard him, Pete is recognised as one of Australia's brightest financial minds, and he is regularly featured in all of Australia's mainstream media outlets.
As an active investor, property buyer's agent, strategist, and mentor, Pete uses his tried and tested strategies to assist investors in achieving their financial goals through profitable equities and real estate investment. 
He specialises in the analysis, dynamics and impacts of Australian household debt, construction trends and real estate market cycles.
He is now a six-time published finance author and all of his books are must reads for any investor. His books Get a Financial Grip and Take a Financial Leap are referenced in my own book The Freedom Formula. He has just published his latest co-authored book Low Rates, High Returns which will help you to successfully navigate the investment landscape over the next decade.
As an extra incentive for you to listen closely to his words of wisdom today, we will offer one copy of his new book to the listener who lets me know what are Pete's '3 C's of Money', along with the best financial survival tip – simply jump onto www.knowhowproperty.com.au, and scroll to the bottom of the page and completing the 'How can We Help?' tabs with your answer in the 'briefly tell us what you need' box.
To keep your finger on the pulse of what is happening and what to do about it, make sure you subscribe to his daily blog, and if you want to check him out and how he can help you further, jump on his website. 
Most importantly, Pete has successfully weathered the storm of every so called global calamity over the last 30 years, including the Global Financial Crisis, and he's continued to grow through all of the seasons, across multiple assets, across multiple global locations, across multiple decades.
So to begin eliminating your fears with knowledge and to help you make good fully informed decisions in challenging times, sit back and soak in the awesome insights of Pete Wargent.
Listen to this episode now and subscribe via Apple Podcasts, Spotify, PlayerFM, search Google Podcasts or the player below. 
Get Invested is the podcast dedicated to time poor professionals who want to work less and live more. Join Bushy Martin, one of Australia's top 10 property specialists, as he and his influential guests share know-how on the ways investing in property can unlock the life you always dreamed about and secure your financial future.
Remember to subscribe on your favourite podcast player, and if you're enjoying the show please leave us a review.
Find out more about Get Invested here 
Want to connect with Bushy? Get in touch here

Podcast produced by Apiro