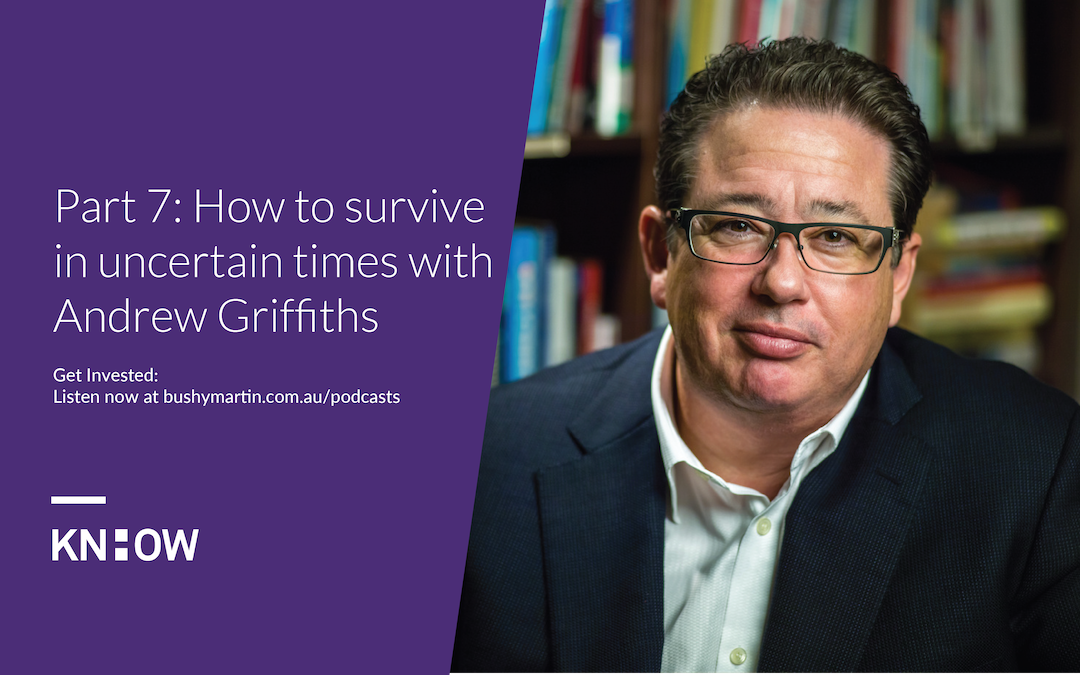 Optimism will lead us to prosperity, pessimism will take us to poverty. And to give you an optimism injection, there's no better person than Andrew Griffiths who returns to the Get Invested podcast.
AG's a living legend who's own life story is a testament to the victory of optimism over circumstance. Have a listen to his incredible, inspirational life journey on episode 20 of Get Invested.
From humble beginnings growing up as an orphan, to global entrepreneur, keynote presenter and international bestselling author, Andrew is a powerful inspiration to business owners and entrepreneurs around the world. 
His passion is future proofing and he brings his own unique and entertaining style to this very big and very relevant topic. AG describes himself as an entrepreneurial futurist – in other words he specialises in future proofing businesses across virtually every industry and in every corner of the planet. 
With 13 bestselling books sold in 65 countries, and a client base that includes organisations such as the European Union, CBS, Hewlett Packard, Hertz, Telstra and Newscorp, to mention just a few of the 500 organisations he has worked with, he is sought after to provide advice and wisdom for the smallest of businesses to the largest of organisations. 
He's able to share his observations, experiences and research from around to world to identify the exact steps you need to take to become future proof. And he delivers his advice in a down to earth, simple and hilarious way.
And he's risen from the school of hard knocks. Where he is today is the result of a lot of hard work, taking more than his fair share of risks, falling over often but always getting back up, dusting himself off, learning his lessons and just keep going.
Over many years, he's learned that there are three important keys to success – resilience, belief and determination – and all of this is underpinned by his indefatigable optimism, limitless generosity and great sense of humour – he's just a cracking all round great bloke and someone I'm proud to call my friend.
So to learn the critical qualities and approaches that you need to adopt to future proof yourself from the ongoing radical uncertainty and rapid change that will continue to dominate our world moving forward, enjoy this informative and entertaining chat with the legendary Andrew Griffiths.
Listen to this episode now and subscribe via Apple Podcasts, Spotify, PlayerFM, search Google Podcasts or the player below. 
Get Invested is the podcast dedicated to time poor professionals who want to work less and live more. Join Bushy Martin, one of Australia's top 10 property specialists, as he and his influential guests share know-how on the ways investing in property can unlock the life you always dreamed about and secure your financial future.
Remember to subscribe on your favourite podcast player, and if you're enjoying the show please leave us a review.
Find out more about Get Invested here 
Want to connect with Bushy? Get in touch here

Podcast produced by Apiro