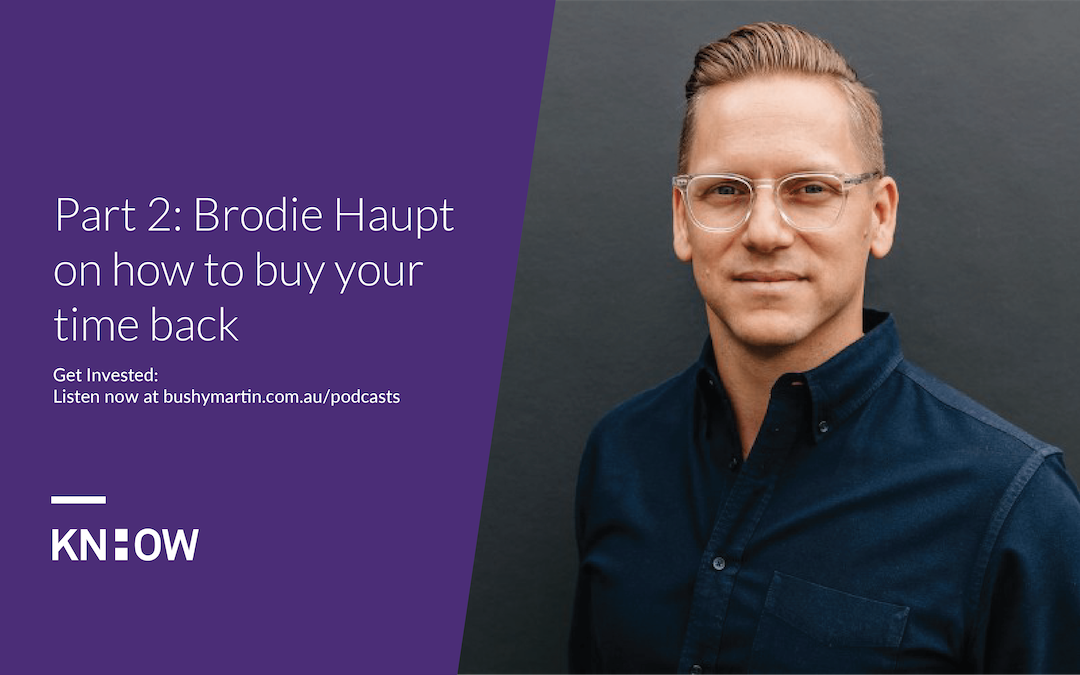 You can buy your time back and compound your time by giving yourself the emotional permission to spend time on things today, that will give you more time tomorrow.
And if you want to learn more about how to do this, then learn from our guest who devotes his life to buying his time back and helping you do the same.
Brodie Haupt and his team at WLTH develop technology platforms and innovative services that help you to buy back time and make much better informed decisions about your future by providing instant access to all of your current information in the palm of your hand.
In Part 1 of our engaging chat with Brodie on last week's episode, we talked about his leading edge WLTH Finance Tracker or Money MGMT tool that brings all of your financial information and advisory team together in an easy to use app.
And to give you the opportunity to make your money management easy and to get more of your time back, Brodie and the WLTH team are offering all of you Get Invested listeners another extra special exclusive offer.
They've generously offered to give you six months free access to their WLTH Finance Tracker mentioned on last week's episode, and this week they're doubling this.
As an added bonus for this week's episode, they've generously agreed to extend this six months free access offer to their other innovative proptech app – Properlytics.
Properlytics is a one stop shop for managing your property investment portfolio.
With it you can stay on top of property details, expenses and deductions, rental income, net asset worth and capital growth projections, and also manage your cash flow projections.
You can check out Properlytics by heading to properlytics.com.au.
To take advantage of both of these exclusive offers of six months free access to WLTH Finance Tracker (that normally costs $29/m) and Properlytics property portfolio manager (that normally costs $40/m (which is giving you a total of $280 for free to put you in control of your financial future) just jump on their web sites and activate your accounts here as well as this link to sign up, and enter the code: BUSHY in capitals.
To activate six months free, the code will need to be entered via the web version and not through the app. Once the code has been activated you'll enter your credit card details but won't be charged until the six months is finished. And you can cancel easily at any time.
Then download the app to your phone on iTunes or Google Play and then book your free 30 minute introduction sessions.
For WLTH Finance Tracker go here.
To book your Properlytics onboarding go here and then activate here.
Remember that to start the six month free trial, you'll enter the code while activating the account on your desktop device (not your mobile). Once activated you'll have full access to Properlytics via the web and mobile app.
These are awesome, easy to use time saving and wealth building tools, so do your future self a favour and jump on them now.
Your future wealthier and time rich self will thank you for it.
In the meantime, enjoy the second part of this great inspiring chat with Brodie, where we touch on all of the key areas that are going to affect you in the future at the intersection of time, technology, property and finance.
Listen to this episode now and subscribe via Apple Podcasts, Spotify, PlayerFM, search Google Podcasts or the player below. 
Get Invested is the podcast dedicated to time poor professionals who want to work less and live more. Join Bushy Martin, one of Australia's top 10 property specialists, as he and his influential guests share know-how on the ways investing in property can unlock the life you always dreamed about and secure your financial future.
Remember to subscribe on your favourite podcast player, and if you're enjoying the show please leave us a review.
Find out more about Get Invested here 
Want to connect with Bushy? Get in touch here

Podcast produced by Apiro