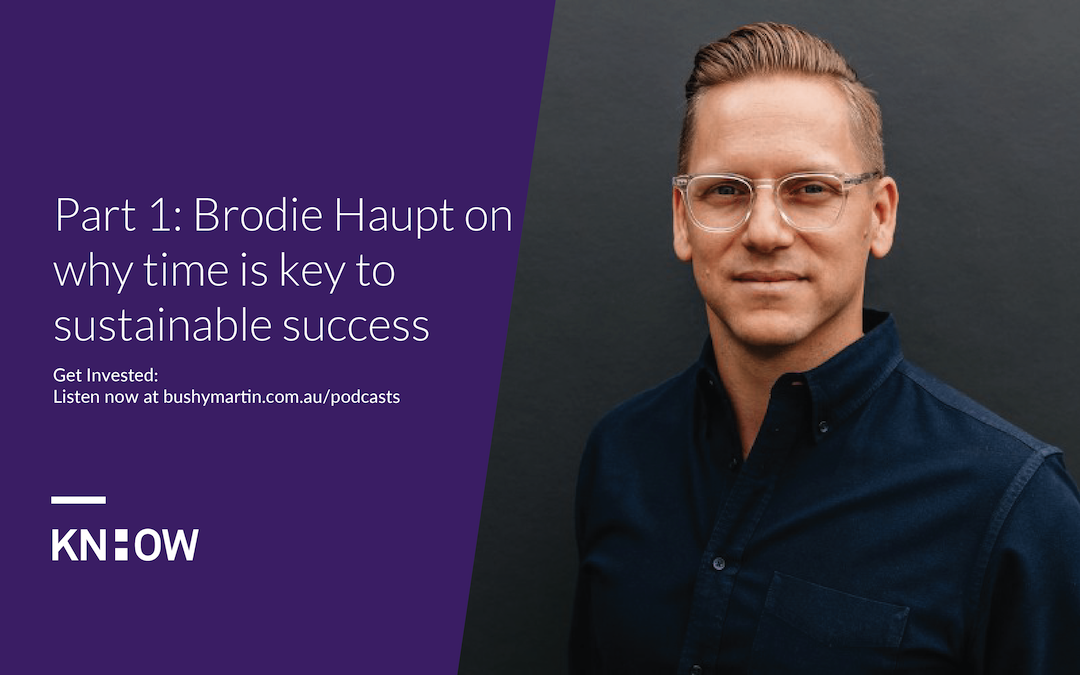 Brodie Haupt is one half of a pair of very entrepreneurial brothers who are using innovation in finance and investment to help you get your time back.
Brodie and his brother Drew founded their first wealth group in 2013 as a financial services business and have since diversified their group into a wealth management, property development and fintech business. 
Brodie is the Co-founder at WLTH and creator of a unique financial tracker and properlytics property portfolio program.
Now for most of us, making money is stressful enough let alone knowing how to manage it, which is exactly why Brodie founded WLTH – a platform centralising your financial management, goals, and achievements.
Their aim is to try to reduce the amount of time and stress you currently put into managing all of your finances so you can spend more time doing the things you love. They put automatic money management in the palm of your hand at the click of a button.
And to give you the opportunity to make your money management easy, Brodie and the WLTH team are offering all of you Get Invested listeners a very special exclusive offer.  You will get six months free access to this leading edge money management tool. 
Here is just a quick sample of what WLTH Finance Tracker (about to be rebranded as the Money MGMT tool) will do for you:
Categorise your spending.

Calculate your net worth.

Create instant budgets around your spending by tapping into live feeds from your banking institutions. Fully customise where your money is being spent and wave goodbye to your excel spreadsheets.

Send a request to your property manager to integrate your property. This will assist you to receive rental statements, documents and receipts uploaded online. You'll also have access to unique property tools to help you manage your property more efficiently.

Monitor your superannuation balance and performance.

Throw away the filing cabinet and get super organised by uploading important documents – receipts, wills, contracts, tenancy agreements, depreciation schedules, the list goes on. Safely store them directly to your platform so you'll never misplace an insurance policy again.

Store all of your documents and electronically sign anything that needs quick turn around.

Tag and filter transactions as tax items, upload receipts and add documents, making tax time a breeze. Alternatively, let your accountant do the heavy lifting by granting them access to your account – the end of financial year just got easier.

Review your financial priorities and receive a custom action plan.

WLTH Tracker utilises live feeds from banking institutions, RP Data, Redbook and the ASX to name a few. This provides you with unique access to unmatched real-time accuracy.

It also gives access to your existing team to ensure you continue to be comfortable with your finances. Whether this is your financial strategist, accountant, planner, advisor, real estate agent, property manager, finance broker, solicitor or bookkeeper- all of your team in one place in the palm of your hand. With WLTH Finance Tracker, you can select what they can view and enable them to assist you in populating your data for you. 
WLTH Finance Tracker is a fintech platform that seamlessly handles all of your assets and liabilities in one all encompassing portal.
And WLTH Finance Tracker is for everyone. The platform allows anyone to use it suit your specific requirements. You don't need to be a savvy investor. From uni students that need budgeting assistance to high net worth investors with complex structures, this easy to use tool works for everyone.
SPECIAL OFFER 1:
To take advantage of this exclusive offer of six months free access, that normally costs $29/m, just jump on their web site and activate your account HERE and enter the Code: BUSHY in capitals.
To activate six months free, the code will need to be entered via the web version and not through the app. Once the code has been activated you will still need to enter your credit card details but will not be charged until the six months is finished. And you can cancel at any time.
Then download the app to your phone on iTunes or Google Play and then book your free 30 minute introduction session.
SPECIAL OFFER 2:
And to help you get more motivated to manage your money and invest in your future, Brodie has also kindly agreed to give you a free copy of his recent 'Futureproof Protocol' – the 10 necessary measures to safeguard your finances, so just jump on our website, hit the 'Get In Touch' button, fill in your details and and tell us you want Futureproof Protocol!
Listen to this episode now and subscribe via Apple Podcasts, Spotify, PlayerFM, search Google Podcasts or the player below. (You can also jump to Part 2 of the interview).
Get Invested is the podcast dedicated to time poor professionals who want to work less and live more. Join Bushy Martin, one of Australia's top 10 property specialists, as he and his influential guests share know-how on the ways investing in property can unlock the life you always dreamed about and secure your financial future.
Remember to subscribe on your favourite podcast player, and if you're enjoying the show please leave us a review.
Find out more about Get Invested here 
Want to connect with Bushy? Get in touch here

Podcast produced by Apiro