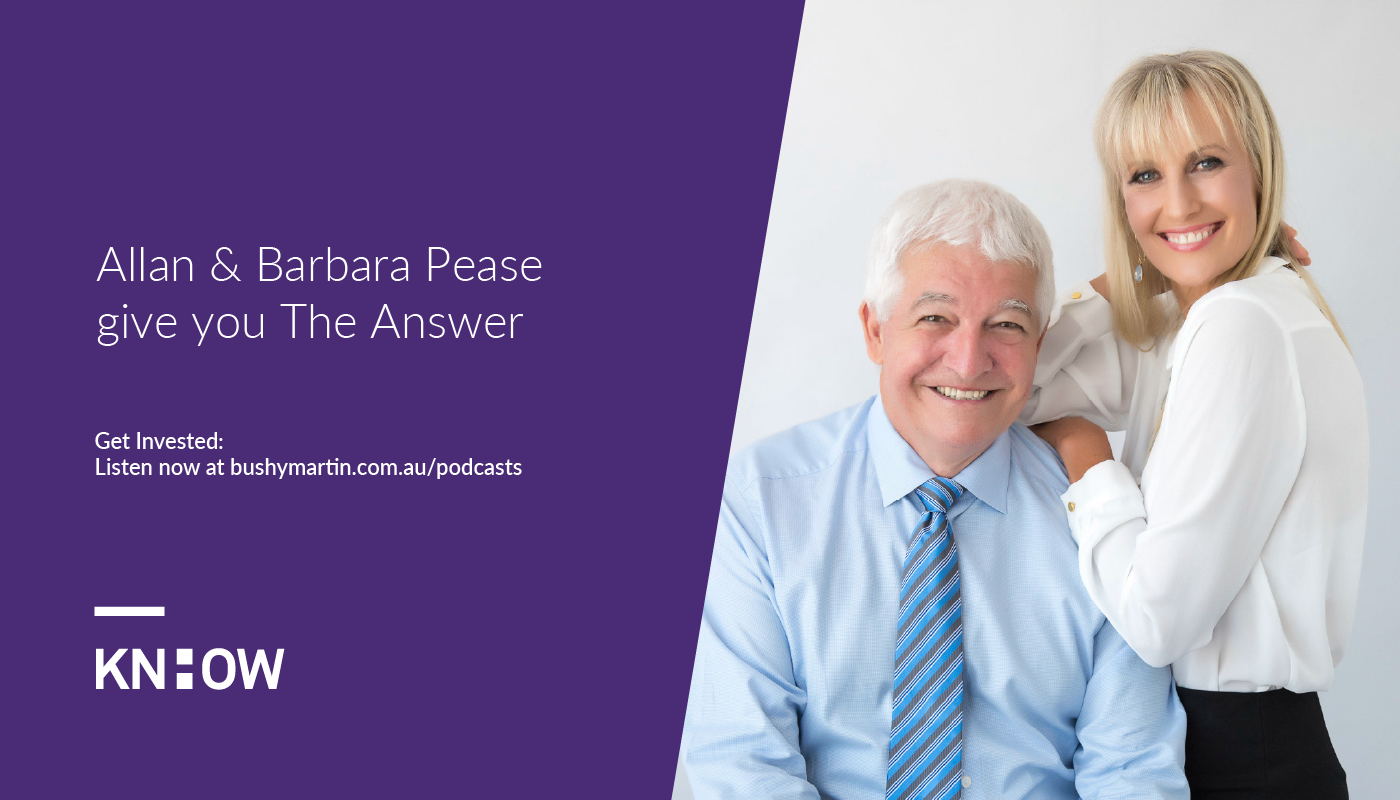 In a special edition of Get Invested, Bushy Martin talks to best selling authors and communication experts Allan and Barbara Pease.
Listen to this episode now and subscribe via Apple Podcasts, Spotify, PlayerFM, search Google Podcasts.
Today's episode will give you all of the timely information, inspiration and the answers you need to get clear on your life direction and what to do about it. And the answer is going to surprise you because I guarantee that it is not what you think.
And to give you the answer, I'm really thrilled to be talking with another couple of my lifetime heroes and heroines and partners in all things, Allan and Barbara Pease. If you haven't heard of them and don't admire them then you've probably been living under a rock for the last 40 years – and during this time they've been my virtual mentors and life guides, equipping me with everything I need to prosper in life.
I can honestly say that I wouldn't be where I am today if not for their timely and timeless guidance in all aspects of my life, both personally and professionally.
Yes I know this is a big statement, but I also know it to be true. Why?
When I was in my late teens and early twenties I was a bit of an introvert and quite reserved, awkward and shy by nature.
And I was lucky enough to realise early that success in anything is a team sport – whether it is your life partnership, marriage, work interactions, customers, clients, you name it – how you relate, read and connect with others in all aspects of your life will ultimately determine your level of success (how ever you choose to define it).
So to overcome my reserved awkwardness and lack of confidence with people generally, but particularly of the fairer sex, I read, studied, watched, role played and practiced everything I could get my hands, ears and eyes on, to improve my relationship interactions at all levels.
And apart from the timeless classic 'How To Win Friends And Influence People' by Dale Carnegie, my greatest life teachers have been today's guests and the books that they've authored.
Allan and Barbara Pease are world renowned as Mr & Mrs Body Language, so let me give you a quick run down on them both as the amazing couple that they're combined chemistry and multiplying synergy has allowed them become – as they say, behind every great man is an even greater woman – and vice versa of course!
In a nutshell, Allan and Barbara are the most successful relationship authors in the business. They've written a total of eighteen bestsellers – including ten number ones – and give seminars in up to thirty countries each year.
Their books are available in over one hundred countries, are translated into fifty-five languages and have sold over 27 million copies. They appear regularly in the media worldwide and their work has been the subject of nine television series, four stage plays and a number-one box-office movie, which attracted a combined audience of over 100 million.
Their company, Pease International Ltd, produces videos, training courses and seminars for business and governments worldwide. And Their monthly relationship column was read by over 20 million people in twenty-five countries.
Underpinning all of this, Allan researches and studies the psychology of selling, relationships and human communication. He teaches simple, field-tested skills and techniques that get results.
He has addressed audiences in 70 countries, and his programs are used by businesses and governments to teach powerful relationship skills. His messages are relevant to any area of life that involves winning people over and getting them to like you, co-operate, follow you or to say 'yes'.
In parallel, Barbara Pease is Australia's biggest selling female non-fiction author. Barbara is CEO of the Pease's immensely successful company, Pease International, which produces their books, videos, training courses and seminars worldwide.
Barbara has established an enviable media and brand presence for the business in every major economy in the world, ensuring the Pease name is synonymous with Body Language & Communications.
Barbara also runs a successful property development business and oversees their two multi-million dollar television and music recording studios called Heliport Studios that has recorded over 100 albums, TV shows, and movies (including a Dreamworks production).
As you can see they are a dynamic duo – and as you are about to hear, they're lots of fun and very down to earth to boot.
Their best selling books are absolute must reads if you intend to achieve success in any area of your life and should be mandatory school text books and compulsory reading. Favourites include:
The Definitive Book of Body Language
Why Men Don't Listen and Women Can't Read Maps
Why Men Want Sex and Women Need Love
Questions are the Answers
How Compatible Are You? – Your Relationship Quiz Book

The Body Language of Love
Most of them also come in audio book and DVD programs so Jump on www.peaseinternational.com and grab your copies.
And today, their latest book – The Answer – 'How to discover what you want from life then make it happen' is what we are going to focus on, because it's the book that will show you how to find the answer to life's questions and it is based on their own experience.
During our great chat today we cover:
How their book

The Answer

h

elps you achieve your ideal lifestyle and your version of sustainable success

The key questions you need to ask yourself to get your Answer?

Why understanding & reading body language




is now more important than ever

How Covid has changed the way we communicate




and the impacts this is having on body language and your ability to read people,




connect, communicate, influence and negotiate with each other, along with

What we need to do differently to thrive in our new environments moving forward.

We also have a quick chat about the work they continue to do with Russia's leader Vladimir Putin

And finally, The Power of 2 – the importance of life partnerships to success in anything
So after enjoying this fun and energising conversation today, do yourself a favour and jump on www.peaseinternational.com, scroll to the bottom of the home page and fill in your details to get instant digital access to an exclusive life changing excerpt from The Answer.
While you're there, you can also buy the audiobook and the soft cover and hard cover versions of this and their other international best sellers on all things body language.
At the same time you can register your interest in the Pease's online training courses that are being launched soon.
And before we get into it, I want to ask you a personal favour. In order to help improving these podcasts I'm looking for your feedback on which episode you have enjoyed most and why, along with what I need to be doing more or less of. Any suggestions on topics of interest that you'd like me to explore and even guests you'd love me to interview. Hit me up at bushy@knowhowproperty.com.au – I'd really appreciate your feedback. Thanks in advance.
Listen to this episode now and subscribe via Apple Podcasts, Spotify, PlayerFM, search Google Podcasts or the player below.
Get Invested is the podcast dedicated to time poor professionals who want to work less and live more. Join Bushy Martin, one of Australia's top 10 property specialists, as he and his influential guests share know-how on the ways investing in property can unlock the life you always dreamed about and secure your financial future.
Remember to subscribe on your favourite podcast player, and if you're enjoying the show please leave us a review.
Find out more about Get Invested here
Want to connect with Bushy? Get in touch here

Podcast produced by Apiro